Artist to show founding family's affection
When sculptor Jim Brothers saw the scene, he knew he had it.
It was different in real life. For one, he knew both the daughter and the father. They were from a separated family, and the girl only saw her dad on the weekend, Brothers said.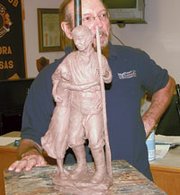 So when they talked to him, he noticed the girl clutching her father's waist.
A similar scene of familial closeness consumed his working hours.
Before, it was in the form of a young Shawnee Indian child ---- Eudora ---- and her father Chief Paschal Fish. Both have been dead for more than a century. Because of the rarity of pictures from the era, Brothers had to rely on his constant research and his imagination to bring the scene to life. The only real piece he had to work with was a fuzzy picture of Eudora when she was about 20 years old.
He had to go with his instincts when it came time to choose the exact style of Paschal's belt buckle or Eudora's dress, but watching the father and daughter, Brothers saw he had one piece right.
"She was holding on to him exactly as this piece, I felt the research was good on that," Brothers said.
He presented a clay model of the chief and child Monday evening to the Eudora City Council. The same image will be unveiled again during EudoraFest in 2007 as part of the city's official sesquicentennial celebration. Next time, it won't be six inches of clay; it will be seven-and-a-half feet of bronze.
Brothers came with Eudora Lions Club member Tom Tucker to get the council's approval of the design.
"I wanted to make a sculpture that would hopefully go down in the books," Brothers said.
After Brothers' presentation, the council took a five-minute recess to let the public and council members study the statue.
In the model, Paschal stands tall clutching a paddle symbolizing his calling as a river man. Every single piece of clothing on him came from Brother's historical research.
"It's all period," Brothers said.
Eudora ---- shown at about age 9---- holds onto him. Her face is nestled into his chest and her hair blows in the wind.
"We tried to tell a story of who he was, who she was and of his love for his daughter," Brothers said.
Brothers had to rely on his mind's eye to picture Paschal, but for Eudora he got lucky.
He found a model.
"I would not believe how much this girl looks like the 20-year-old picture, "Brothers said. "I found that with a streak of luck."
Before the council reconvened to render its decision, Brothers reaffirmed his philosophy for the project.
"I don't get too many jobs if I'm common with my work," Brothers said.
The council voted unanimously to accept the design offered by Brothers.
Before the Lions Club project began, Councilman Scott Hopson had pushed the council to consider creating a statue of Eudora.
After seeing a solid representation of such a statue, his expectations were far surpassed, he said.
The piece could inspire the youth of Eudora to study the heritage closer, Hopson said.
Eudora City Administrator Cheryl Beatty also had praise of the project.
"It's gorgeous," Beatty said.