Eastern Europe shaped pastor for new flock
Although he preached at the First Southern Baptist Church in Eudora 13 years ago, Kevin Wood considers himself returned to the congregation as a changed man.
A year with the Roma ---- or gypsies ---- might do that to anyone.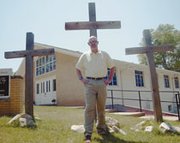 "I think the difference in what I learned is summed up in some basic Christian values," Wood said. "I'm much more serious in prayer now than I was before I went overseas. I'm also much more serious about helping the church develop an ecumenical vision that will be culturally appropriate."
Striving to spread the word to other cultures is nothing new to Wood.
"I've always felt a call from God to serve other countries," Wood said.
Wood has been involved in his ministry for a quarter century, beginning when he was a young man in Texas.
"When I was 16 years old I began to preach and teach at the local church," Wood said.
He said he experienced his first great moment as a minister when he was a young man preaching in Chihuahua, Mexico.
"I felt a clear example of God's call on my life to do this permanently," Wood said.
After leaving Eudora, Wood's travels took him across Eastern Europe to Romania and he spent a year in Slovakia.
"We just had a strong sense that that's where God wanted us," Wood said.
While in Romania, Wood worked to establish his faith among the country's poor.
"There's something liberating about being with people who live with nothing," Wood said.
Although Wood arrived after Romania's struggle to throw off Russian dominance in 1989, he could still see the country rebuilding.
"One of the things that was new to us was that we thought prejudice was just an American problem," Wood said.
Wood saw prejudice leveled particularly against the Roma.
To spread his faith's message to the culture firmly rooted in the Eastern Orthodox Christianity, Wood enlisted help.
"In particular, I worked with this guy named 'Big Pete,'" Wood said. Together they traveled Romania starting faith groups.
Wood remembers the Roma's services being filled with music and energy.
"They teach when they want to, they sing when they want to, they're just very free," Wood said. "For me, the best part was worshiping with the Roma and getting to be with people who have nothing."
Wood's time in Romania also prepared him for Slovakia, where he took a less grassroots approach to his mission.
"When I went to Slovakia, I took more of an administrative role," Wood said.
He said he felt that role and his experience prepared him well for his return to Eudora.
"The best thing we did in Slovakia was helping them learn how to do the ministry in their culture effectively," Wood said.
Back from two years abroad, Wood said he sees his return to Eudora as a homecoming.
"I feel it's full circle coming back," Wood said.
Wood and his wife, Sheila, have three children ---- Taylor, 18; Keenan, 13; and Rachael, 7.
More like this story