Monster hunting
Topeka-based guide offers unique fishing experience on the Kansas River
Things don't always go perfectly, not even for CatDaddy.
That much was clear early Sunday evening. A whole day of work -- scouting followed by setting lines, all supplemented by traditional pole fishing -- and there wasn't even a whole cooler full of fish to show.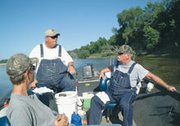 R. R. "CatDaddy" Shumway laughed it off, however, and at the same time promised his two customers that when the rapidly approaching dusk arrived, so would some catfish.
"Last week they had to call me TurtleDaddy," he said "But we found some catfish. We'll find 'em tonight, too."

Shumway, a fishing guide offering multi-day Kansas River fishing and camping trips, looks exactly as one would expect. The larger than life self described "river rat" is admittedly overweight, and it's not hard to see him attacking a steak -- not to mention a freshly prepared channel cat -- with the same jovial approach he brings to every moment of his tours.
Sunday night, 12 hours into a two-day, one-night trip with Terry Bechets of St. Joseph, Mo. and his nephew, Brad McInnis visiting from Cincinnati, Shumway was laughing and joking and offering stories nearly non-stop as he expertly weaved his boat up and down the Kaw.
It was time to bait the hooks and one by one Shumway directed his passengers -- including his son, Claude Brandon -- to hook goldfish through the large hooks attached to polls tied to shore-bound trees or sticks stuck deep in the dark river mud.
The goldfish are the bait. The prey, the Kansas River's biggest channel, flathead and blue catfish. Shumway has reeled in monsters topping 80 pounds, though those barely count because, he said "without a picture, it's just a fish story.'"
While he said fish that gargantuan aren't likely to happen upon these hooks, plenty of impressive catfish can, and he hopes will, take the bait.

Hoping a fish will take the bait is only half the battle, Shumway said. Knowing how to drop a juicy meal directly in front of fat catfish is the hard part, and he said that's what has taken him so long to master.
"I'm old school," Shumway said when asked of his fishing technique.
He predictably grew up on the river, fishing the banks of the Kansas near Topeka every day as a child. He was inundated by fish stories whenever he would visit his father's Topeka bait shop, and he learned the basics from the experts.
A career on the river wasn't in Shumway's immediate future, however. His father died in 1973 because of complications from a robbery, and Shumway joined the Army in 1977.
After getting out and spending a few years working in Topeka, he finally decided fishing on the river was the only thing that would keep him happy.
"He'd love what I'm doing," Shumway said of his father.
Happy or not, it wasn't an easy business to crack. While there isn't a wealth of competition, Shumway said he learned long ago customers don't just hand stacks of money over for any old sucker to paddle them around in a boat.
"You have to know what you're doing," he said. "You have to build up a out, you have to catch some of the big fish. Nothing helps my business better than word of mouth."
As much as he knew in 1983 when he first took to fishing full time, Shumway said he knows 110 percent more now, and he's still learning.

Make no mistake: Shumway's dream job lives and dies on whether or not he leads wide-eyed river novices to enough fish, but as soon as the last goldfish hit the water Sunday, he demonstrated that there's more to even this job that meets the eye.
Shumway sold Bechets and McInnis on an authentic old-fashioned catfish hunt, and he delivered it right down to the tent on the river. The party had erected a pair of tents, had gathered wood for a soon-to-be roaring fire and had settled in for CatDaddy's "Kaw River Special" not 100 yards from the nearest hook and not 100 feet from the lazy early-summer banks of the Kaw.
Really, it was just hamburgers -- big, fat hamburgers accompanied by chips and in Shumway's case, two fat onions -- but it's all part of the experience, he said.
"We tell people all they need to bring is their pillow, and we mean it," he said. "We supply our clients with the nicest equipment."
It's always the nicest, he says, no matter what kind of tour he's leading. Shumway said his favorite trip involves the catfish.
"The world's largest bass is more than 20 pounds. The largest catfish you can catch out here are more than 100. I just love how they fight," he said.
But he also offers trips nearly anywhere in the region. He said he has even hosted bird watching trips -- "Now those folks, that's a different breed," he said with a laugh.
Shumway has explored many different areas to fish along the river, and often works the banks near Eudora. The river ramp recently put in near De Soto could push his stomping ground a little further downhill, however.

The fishing picked up Sunday night and into Monday. Bechets and McInnis' trip kept them busy from dawn Sunday until the middle of the afternoon on Monday. When they finally plodded back to their SUV to head home, they had plenty of fish -- CatDaddy cleaned, of course -- as souvenirs.
It wasn't the best of weekends as the party didn't haul any of river's trademark monsters from the waters, but for Shumway, it was yet another perfect weekend. He spent it telling stories and laughing, fishing, learning and teaching and for two more days, living and loving a life on the river.
"The day I know it all, I'm done," he said. "I'm always learning something new. This is how a good fisherman learns how to fish, by fishing with other people, by looking and listening.
"I've grown up listening to the older folks, and everyone has their own techniques to catching 'em. Lady luck has a heck of a lot to do with it, too."