Trail by tire
Elliott conquers 255-mile bike trail ride across Missouri, ready to do it again
Bud Elliott had reason to feel satisfied after finishing a 255-mile ride across Missouri's Katy Bike Trail State Park, until he considered his friend Casey Jones.
Elliott, a 62-year-old former pastor, first heard stories of the converted railroad corridor from 82-year-old Jones ---- a member of his former congregation in Riverside, Mo.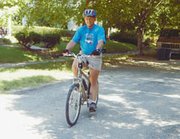 Jones told Elliott he had ridden the trial for the last three years as part of an annual organized group. This year, Elliott offered to accompany him.
Jones agreed, much to his surprise, he said.
Because of a doctor's warning, Jones wasn't able to make the trip this time, ending his consecutive years of the trek.
"So I finally left by myself, but I enjoyed it," Elliott said.
The trail bisects Missouri from near Clinton all the way to St. Charles, a town outside of St. Louis.
Each year the end points of the trip switch, Elliott said.
This year after taking a bus from Clinton, Elliott and the group set off on the ride from St. Charles.
Bikers pass from town to town on the trail and across several natural and historical highlights ---- including beaver dams, the Missouri River, and an outlook of Jefferson City.
The first leg of the trip took Elliott from St. Charles to Marthasville ---- a 40-mile ride.
"I usually averaged about 10 to 11 miles per hour," Elliott said.
Although Elliott had made several training runs leading up to the ride, he had yet to experience something as long as the Katy Trail.
Some days were worse than others, he said.
"Tuesday was bad because of the heat," Elliott said.
After leaving Marthasville, Elliott pedaled to Jefferson City.
"A lot of (the riders) didn't make it," he said.
State park employees followed the group and gave treatment to those who couldn't make the full leg, Elliott said.
Once stopped for the night, Elliott said most people would pitch a tent then rest until the next morning. A truck outfitted with shower stalls followed the group. Normally as the generator revved up to power the showers ---- around 5:30 a.m. ---- people knew to get up, Elliott said.
After having a prepared breakfast, the riders hit the trail again.
"You just get out and you go," Elliott said.
The next leg brought its own challenges.
Elliott left from Jefferson City to travel to Rocheport, Mo.
This leg became messy as a storm overtook the riders, Elliott said.
"You knew you were going to get wet," Elliott said.
Elliott said he was lucky because he reached the stop before the bottom fell out of the storm.
Later, another storm arrived, which he missed completely, Elliott said.
Because the trail is mostly made of crushed limestone, he described riding as biking through muck.
"The mud splashes up onto your back," Elliott said.
After leaving Rocheport the following morning, Elliott biked to Sedalia. After Sedalia, Elliott began the final leg back to Clinton.
Like Jones, Elliott said he, too, might return and would welcome the company of other Eudora riders.
Elliott can be reached at 542-1952.