Dismal days in Salina end wrestling season
A long and hopeful season ended in disappointment over the weekend as the four Eudora representatives at Salina's Bicentennial Center found themselves going home almost as quickly as they had arrived.
Only two of the four Cardinal wrestlers made it to the state tournament's second day and while Tim Durkin and Michael Whitten advanced, their stay was brief.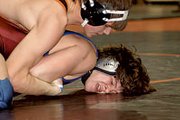 The performance left a bitter taste in the mouths of the entire Cardinal team, but in particular the head coach will have to deal with the ending as he prepares for the season to come.
"I'm going to obsess about it for the next nine months," Eudora coach Bill DeWitt said. "That's what you do. You're going to have disappointments and you can either throw up your hands and say 'Oh well' or you can identify the problems and work to get better. And we will. These guys are not satisfied."
The disappointment stretched throughout the Cardinal brackets over the weekend as no Eudora wrestler broke through further than the second round.
Junior Michael Whitten began his run in the 135-pound bracket on a positive note, defeating Perry-Lecompton's Kenny Calhoon in a 5-4 decision.
Whitten didn't fare so well in his second match, a 6-2 defeat at the hands of Scott City's Logan Dreiling, the bracket's eventual champion.
"He (Michael) started out pretty well," DeWitt said. "He was in a tough bracket and he just made some bad moves in his second match and gave up some points."
The loss sent Whitten to the second round of the consolation bracket where his tournament run came to an end with an 8-3 loss to Goodland's AJ Stephens.
Perhaps the toughest turn of events came in the 140-pound bracket, where Cardinal senior Miles Cleveland sat poised to take advantage of an upset of 30-6 Wellington wrestler Danny Dawson.
Cleveland took on Scott City's Dustin Warta and was leading 3-1 late in the match, before an ill-fated takedown netted Warta the points to tie. Cleveland went on to lose the decision 5-3.
"He just made the one mistake," DeWitt said. "I'm sure he didn't want things to end that way. Mentally that may have put him out of it."
Cleveland was sent to the first round of consolation play, where he met up with Dawson and fell 3-1, failing to advance to the tournament's second day.
Cleveland finished the season with a 33-14 record and a second-consecutive state appearance. His career record was 105-47.
Durkin duplicated Whitten's hopeful start by making quick work of Augusta's Lucas Camac, 12-2, in the 189-pound bracket.
The win set up a second-round match with Clay Center's Josh Marrs, where unfortunately Durkin found himself on the receiving end of a lopsided decision, 11-2.
From that point on, Durkin's stay at Salina was short-lived as another defeat -- this time a 3-1 decision to Michael Baker of Lindsborg -- ended things for the junior.
Durkin's short state run was one of many concerns for DeWitt.
"I don't know what happened to Timmy," DeWitt said. "I think it may have been a lack of focus or he was underestimating the competition. He missed a good opportunity. I don't have any doubt he was one of the top six wrestlers in the bracket."
Evan Meyers, the Cardinals 215-pound wrestler, was brushed aside in his first state appearance. The Eudora sophomore went scoreless in two decisions, a 5-0 loss to Buhler's Jordan Pfenninger, and a 7-0 defeat to Matthew James of Clay Center in the consolation bracket's opening round.
"I think Evan was a little overwhelmed by the experience," DeWitt said. "He'll be the first to tell you that he didn't wrestle well. He'll regroup though. He's had a taste of the tournament and he'll be back next year. He's come a long way."
Despite the poor performance, DeWitt sees much to be hopeful for in the coming year even if he does obsess over this year's tournament.
"We've got a lot of guys coming back," DeWitt said. "So I think this tournament experience will be a motivating factor. It has to be if we want to be an elite program. And that's the goal."