Family interrupted
Back from service, Jason Koehn finally meets his son
One by one, Jason Koehn watched people walk off the plane.
He'd been traveling for 36 hours before that point, from northern Africa to Kansas by way of Iceland.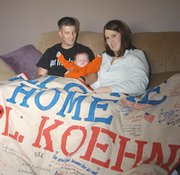 He'd spent the greater part of a year away from his life and buried in work as an intelligence specialist for the Marines.
Christmas and Thanksgiving were most painful for him,but seemed far off because of the heat and his constant activity with the native peoples of Djibouti.
By the time he finally stepped off the plane, he realized he was the last to leave.
"It was really overwhelming at first," Koehn said.
Koehn walked into the hangar greeted by a crowd of his family and friends. Many of them waved miniature American flags as he walked by.
Before Koehn's arrival in the hangar, his wife Karen, made small talk with Jason's father, and held their son Christian.
The last time Jason saw Karen, the couple was in Louisiana a week before Hurricane Katrina pummeled New Orleans.
In the hangar, Jason held his son for the first time.
"It didn't really feel like mine at first fully until I was seeing him wake up, cry for food or I changed his diapers," Koehn said.
Although, Koehn's homecoming marked the first time he had seen his son, Koehn found ways to remain as close as possible to Karen during her pregnancy.
"What won't kill you will make you stronger," Karen said. "That's what got me through it all."
Though unconventional, he and Karen shared a two-and-half-hour phone connection during Karen's labor.
"I was upset I couldn't be there, but at the same time I had a lot on my mind with work," Koehn said. "It never really hit me it was our son."
The feeling of disconnection would change as Koehn stepped off the plane and began to build his life again. He also had a chance to catch up on what he missed several months earlier.
"Then when he came home, he could watch the birth and delivery videos, " Karen said. "That way he could experience that through that, but it definitely wasn't the same."
In order to let the child know his father when he was away, Jason recorded children's books on tape to play before his son's bedtime.
Because of the books on tape, Christain is able to recognize Jason's voice, Karen said.
"It was very nice," Karen said.
The couple's separation also hit Karen toughest during the holidays, especially Christmas, she said .For the past six years she had spent that time with Jason, and this year marked Christian's first.
"When you're used to having the same traditions every year, I'd definitely say that was the worst," Karen said
During Jason's absence, Karen said she'd relied on her family to help with Christian and support.
Her mom, Karla Grosdidier, attended Jason's homecoming.
"It's been an interesting process when he's been gone," Grosdidier said.
Now, Jason has returned he and his Karen look to get life back to normal.
If he's not called up soon, Jason will be moved to a reserve status and continue his education at DeVry Institute.
"I'm mostly just ready to be a family," Karen said.
When looking at the situation, given the fluctuations during her pregnancy and with Jason back in time to see Christian's toddler milestones, Karen takes a positive outlook on the past year.
"If he were going to miss any months, these were the months to miss," Karen said.