Storms slash county, Eudora escapes
Although he'd heard reports of straight winds and microbursts after a major storm ripped through Douglas County Sunday, Jimmy Grems is positive as to what destroyed the roof of his house.
"It was an actual tornado," Grems said. "A neighbor of mine showed me a picture of it on his digital camera. They've got a big barn torn up, too."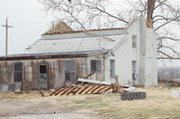 Grems said he first heard about the damage about 8 a.m. after his boss gave him the day off because of the weather.
It was about then he received a call from his brother Jason who lives across the street. Jason proceeded to give Jimmy a play-by-play of the storm as it ripped the roof off of his house in the area of East 15th Street.
"Well, I was thinking just the shingles, and he was saying 'no I can see in your house," Jimmy said. "It was kind of a rough emotional day for awhile."
Jimmy's roof was just one victim of a string of storms that bowled over signs near Kansas Highway 10, blasted barns and caused more the $6 million in damage to the nearby Kansas University campus in Lawrence.
Douglas County Emergency Management Director, Paula Phillips said Eudora escaped relatively damage free from the storm.
"We didn't receive reports of any significant damage in Eudora," Phillips said.
As of Tuesday, Phillips has sent damage assessments from the storm to the state and awaits possible disaster funds, which could be available to Eudora if needed.
"Even though Eudora didn't report any damage even if there was minimal damage, if we get the declaration it would still be included," she said.
Phillips pointed out that the aid from the state would be solely for government bodies and the area didn't receive enough damage to qualify for individual aid.
Although causing spotty problems, City Administrator Cheryl Beatty assessed storm damage similarly to Phillips.
"The city of Eudora was nominally impacted," Beatty said. "It went north of town. We needed to put our water wells on emergency generation because the power was out."
USD 491 Operation Director, Hal Reusch said the district also escaped hazard in Sunday's storm.
"About all we sustained was a few trash cans blown over, minor limb loss and the soccer club had some portable rest rooms tipped over, " Reusch said. "Other than that we came out of it pretty well,"
During the heart of the storm Sunday, the advanced warning sirens for the county were silent.To keep the public aware of the danger, representatives from the police and fire departments roamed the streets.
"I think the officers did an excellent job," Dahlem said. "In fact, I had a citizen approach me yesterday. She thanked my department for the way the handled the notification to the citizens and thought we did a good job."
As Eudora deals with the aftermath of the storm, Grems continued to clean up his home.
"It was pretty emotional," Grems said "I'm a pretty tough guy, but I actually I broke down. I love this old place."
Grems said his family and friends helped him clean up Monday.
He'll be staying with his brother until the owner of the house, who lives in Louisiana, decides whether or not to fix it up, Grems said.