The natural
Fernandez earns trip to regional with state gymnastic title
Tami Klinedinst still fondly remembers the moment when she realized her daughter -- Eudora High School junior Melissa Fernandez -- might have the makings of a gymnast. Fernandez was just 5 years old, but Klinedinst said it was clear her daughter was already a natural.
"She would run and I would watch her from the backside and she would do that little rounded-off cartwheel thing," Klinedinst said. "I thought she looked so much like a gymnast. She just had the little body for it. She was so flexible."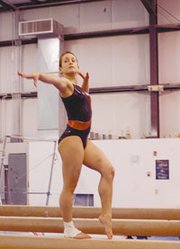 Twelve years and untold hours of hard work later, that image has transformed itself into a proud reality as Klinedinst's tumbling 5-year-old has turned into an accomplished competitive gymnast at the age of 17.
The gravitation toward gymnastics was a natural fit for Fernandez, and the sport ultimately satisfied a part of her young personality.
"I just liked it," Fernandez said. "It keeps me busy. I'm a very active person and it's an active sport."
Fernandez has parlayed her early fondness for cartwheels into strong showings at gymnastics events around the state and around the country. She recently cashed it in for a trip to Dallas. She competed at this year's Kansas State Gymnastics meet in Gardner, where she took first-place in the vault, high beam and floor competitions.
By placing in the state meet, Fernandez earned herself a ticket to the upcoming regionals in Dallas, where junior gymnasts from Texas, Oklahoma, Kansas, Wyoming, Arkansas, New Mexico and Colorado will gather. From there, she will have a shot to advance to the Junior Olympic Nationals in Oklahoma City.
Fernandez competed in last years' nationals in St. Louis where the gathering of competition was a sight to behold.
"I'd never been to nationals before and there were so many good gymnasts," Fernandez said. "There were gyms and the whole area was bigger and the crowds were bigger. I competed better than I thought I would, which was good. And the whole experience was just fun."
After Fernandez's mother recognized the potential of her daughter; the journey to becoming a competitive gymnast began shortly thereafter. The first stop was at the Lawrence Gymnastics Academy where she began to hone her skills and quickly became a level four competitor by age 7.
She continued to rise through the ranks -- junior gymnastics has 10 levels -- before finally reaching her first regional meet at level eight, when she was 12.
Since that beginning, Fernandez has worked her way up through the gymnastic ranks to where she is now -- competing at a level 10.
The opportunities to compete at a national level over the last two years have come with much sacrifice and hard work from the 17-year-old student. Long practice hours, coupled with the constant burden of homework and travel time to the six or more meets a year, have meant going with less than normal helpings of things most kids Fernandez's age take for granted.
"It's very time consuming," Klinedinst said. "She gives up a lot of time with her friends. She has to really manage her time between her homework and the classes she takes at Johnson County (Community College) and the gymnastics. She no more gets home from school than goes straight to the gym. She has time to eat and then do her homework. So it really cuts into her social time."
Simply practicing her craft hasn't been an easy chore for the junior, either.
Since Eudora High School doesn't offer a gymnastics program, Fernandez finds herself traveling 20 miles to practice at the Kansas Gymnastics and Cheer facility in Olathe.
There, Fernandez practices from just after the time school gets out until nearly eight in the evening, a regimen devouring nearly 23 hours a week.
Gymnastics coach James Sampel, who along with Ann Duncan, help coach Fernandez in her various events at the Olathe facility, has seen the hard work poured into the sport by his pupil.
"Once she got acclimated into our program, she just started to excel," Sampel said. "She's been moving ever since. She's picking up new skills and advancing through the levels and has been doing really well."
While Fernandez is enjoying the time she spends in junior competition, she still looks ahead to what possibilities may be in store for her in the college ranks.
Each major event Fernandez competes at also has the benefit of having a few pairs of college eyes in attendance.
"That is the goal," Fernandez said. "There isn't any one school in particular, but there are a lot of good gymnastics schools out there."
Schools such as Georgia, Alabama and Florida have quality gymnastics programs and are definitely on the radar of the Eudora athlete.
But that's all for the future. For the time being, the junior is focused on regionals in Dallas, and perhaps the Junior Olympics.
But for Klinedinst, there will always be the past.
"It's pretty indescribable how proud you are when she gets a good score at a meet," Klinedinst said. "But when I think back on it, I always have that image of her running and doing cartwheels."