Innovative district nurse earns recognition
She may be a school health nurse, but Kathy Kellerman knows her job reaches beyond school walls.
In recognition of the innovative outreach programs she initiated, Kellerman was honored last month with an award from Children's Mercy Hospital.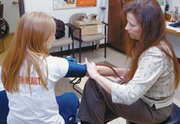 Her work on the program ---- which spawned a committee to help maintain healthy lifestyles within Eudora USD 491 and pioneered a citywide health fair ---- put the district on the cutting edge.
Kellerman's work was used as a model for outreach programs the state would require of all the state's school districts.
Her first major accomplishment was the creation of the coordinated school health team.
"Several years ago there were grant monies available, so I wrote a grant and applied for funding," Kellerman said. "We received that funding and out of that money, we had to develop a coordinated school health team, so we did that."
come up with, you use to make changes districtwide if they're needed."
From the findings, Kellerman helped develop several health-oriented programs within the district, including Eudora West Elementary School's innovative Kicking It Up recess program.
Although the grant helped streamline the district's health programs, Kellerman's work with the team incorporated a broader focus.
"One of our areas that we decided to work on then was community involvement," Kellerman said. "The whole theory behind a coordinated school health team and using the student health index is to get the community involved in what's going on."
The drive to include the community helped bring about last summer's community health fair.
When planning the fair, she and the coordinated health team wanted to do something different than the other health fairs she had seen, Kellerman said.
In the past, she had found the events catered either to children or adults.
She felt she could do something more cosmopolitan.
"We felt we'd open it up to the whole community," Kellerman said.
The development was challenging, she said.
"There aren't that many health fairs out there," Kellerman said. "We had trouble finding examples to go from or pull from because we didn't want it to be just older people and we didn't want it to be just kids."
Although the group didn't have many clear examples, the health fair succeeded in pulling in a variety of presenters.
The fair ran the gamut from massage therapists, to blood pressure stations to skin-care specialists.
Children where entertained with games and tables helped steer them toward healthy eating.
Some representatives even dressed up as giant vegetables.
With the success of last year, she's ready to do it again, Kellerman said.
"Everybody that came last year said that they would come back," Kellerman said. "We'll think about adding some other things that weren't available that early in the school year."
The health team and the fair helped Kellerman garner the honor from Children's Mercy.
"It was a very nice award and I do lots of things ---- nursing is a job that you don't see everything I do ---- so it's very nice to be recognized for that effort," Kellerman said.
Besides researching outreach programs for the district, Kellerman services all four schools in the district and works part time at Children's Mercy.
"You're not only there for the students," Kellerman said. "You're there for the staff and these kids' families, so you're covering the community as a whole regardless."
Despite the breadth of responsibility, Kellerman said she's satisfied with her work.
"It's a demanding role and I've been blessed to be given the opportunity to meet these kids and their families. A lot of them let me be a part of their situation," Kellerman said.
Kellerman's work has also been recognized within the district.
Eudora Middle School principal Don Grosdidier helped set up the health fair and attended the award ceremony to celebrate Kellerman's achievement.
"It's very well deserved and Kathy does a great job in a lot of ways for us," Grosdidier said.