Liquor stores escape six-month hangover
Mike Fadden and Emma Jean Ellis can't be blamed for expressing a sigh of relief when Feb. 16 passed without making local headlines.
"It was just another day," Fadden said.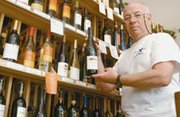 Although the date was uneventful and passed without popped champagne corks or wild celebration by the two liquor store owners, it marked the official end of an era for Eudora.
The date solidified a law adopted the previous November which changed Eudora from a "dry" to "wet" city.
"We should have done that years ago," Ellis said.
When Fadden opened Eudora Wines and Spirits in late November, and Ellis opened Main Street Wine and Spirits a few weeks later, the newly enacted law was subject to a protest petition for the next three months.
The period uncertainty made the new businesses a gamble.
It paid off. Six months after first appearing in town, the packaged liquor trade is running strong.
"When we first opened the store, we got a few double takes," Fadden said. "A lot of people would walk in and say 'hallelujah,' or just 'man!' There was a lot of excitement when we first opened."
Before the law went into effect, several local ministers spoke out to the Eudora City Council against letting liquor stores open in Eudora.
Despite earlier grumblings, both Fadden and Ellis said they had encoun
tered little complaint about the presence of their establishment.
In fact, Fadden said he hadn't heard a negative word directly.
"For the most part, people seem pretty happy," Fadden said.
Fadden's shop ---- located next to Durkin's Hardware at 218 West 20th Street ---- faces different challenges than Ellis' business at 728 Main Street.
"We're accepted by the business and it's gotten better every month," Ellis said. "I think most people are glad to have something else downtown."
For Fadden, part of the challenge is helping citizens get over the novelty of a local liquor store.
"Part of it is having people adjust to the fact we're here," Fadden said.
Fadden said he had one customer nearly make it to Kansas Highway 10 to drive to Lawrence to get alcohol and tools.
The customer turned around before the exit after he realized he could do that in town.
"I've made friends," Fadden said. "I like my customers."
Ellis said she could see the new liquor law continually helping Eudora.
"I'm hoping we'll get more restaurants here where we could serve alcohol by the drink," Ellis said.
Those restaurants could help Eudora from becoming solely a bedroom community, Ellis said.
Despite opening within weeks of each other, both Ellis and Fadden said there has been plenty of business to go around.
"Realistically you're never going to get 100 percent of the market," Fadden said.
When both stores opened, they cashed in on the holiday season rush, Fadden said.
Ellis' store opened days before Christmas.
"We were busy considering we opened two days before Christmas," Ellis said.
The strong business continued during the following months as both Fadden and Ellis have been expanding their inventories.
For Main Street, Ellis described the business flow in one word ---- "excellent."
Fadden looks at his shop's growth month by month.
"January and February are always the slowest months of the year, but it always picks up by April," Fadden said.