Big bad Boyer
Sophomore capitalizes on opportunity
A year ago, Kelson Boyer found himself pitching junior varsity and if he was lucky, getting mop-up duty in a lopsided game on the varsity side.
In 2006, things have changed a little bit for the sophomore as he was given the opportunity to start a few games for the Cardinals in their effort to reach state.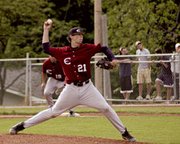 So far this season, Boyer has made the most of his opportunities as a member of the Cardinals' pitching staff.
The sophomore right-hander leads the team with an earned run average of less than one in 30-plus innings and has a spotless record at 5-0. He also has a pair of saves to his credit in some recent relief work.
"It's pretty exciting," Boyer said. "Last year I didn't play much except when we were up by a bunch of runs. This year it's nice because I'm helping out the team."
This year's success can best be traced to successful appearances last year and a solid summer campaign playing for a local club.
The offseason work paid off as the Cardinals' head coach took notice.
"He had some good work last year on the junior varsity and up here," Eudora coach Dirk Kinney said. "I knew he'd be pretty good, but not this successful his sophomore year."
The practice has also helped the sophomore form a definite philosophy as he takes the mound.
He understands the value of throwing strikes and letting his defense help him out, but he knows there are a lot of details that must also be considered.
"You can go up there and throw strikes all day and the hitters will just hit them out of the yard," Boyer said. "But there are ways to beat hitters. You have to know how to get a batter out."
His philosophy on pitching has leaked over into aspects of his personality as well, as things change from the normal routines of a high school sophomore to pitcher on a first-place team.
"I feel like I'm a different person when I go out on the mound," Boyer said. "I just focus on nothing but getting the guy out. And I guess I'm pretty good at it. Maybe it's because I wear my hat so low, I don't know, maybe it's intimidation."
Hats aside, Boyer has used a number of pitches to fool opponents and make quick work of some of the top offenses in the league.
His fastball and change-up have been the mainstays of his arsenal, but with work he could add a curveball to his artillery.
"He still has to work on the curve a little bit," Kinney said. "He's had success with his other pitches, but he'll be the first to tell you he has a lot to work on."
With the work that has been done and the work yet to be done, there is one thing Boyer is certain of as he helps the Cardinals make a run in the postseason, where they fell short last year.
"It's really exciting to be a part of this team," he said. "Those guys have taught me a lot and maybe I can go out there and help them get as far as we can."