Girls easily defend league crown
Coming around the final turn during the second leg of Thursday's 3,200-meter relay, sophomore Lauren Colman kept remembering the things she was told before every race this season.
Her goal in this particular event was to keep third-place Baldwin in exactly that position while maintaining second-place for Eudora in the first relay of the 2006 Frontier League meet at Paola.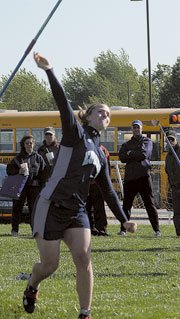 However, as she was finishing her second lap she saw an opportunity. Gardner's Kelsey George, who had benefited from a strong first leg by sister Cali, sat in first place, but was suddenly within a few meters.
"I was just concentrating on keeping Baldwin in third," Colman said. "But I'm pretty competitive and when I saw her in front of me and close, I felt I could catch her."
The competitiveness kicked in ,and Colman passed George on her way to handing off the baton to teammate Alisha Wingebach, putting the Cardinals in first place, where they stayed en route to a school and meet record time of 9 minutes, 54.23 seconds.
The sophomore's own time of 2:34.8 was a personal improvement for the season and was a key component for Eudora's win in the event.
"She finally ran like she is capable of running," Eudora coach Phil Katzenmeier said. "We really needed her to do that, because we ran the race without Emily (Ballock), and we ended up getting the 10 points and it was because of her. She has the ability to run fast, and today she did it. And she put the team into a position to win."
The first-place finish at the meet was the second for the sophomore, who was part of last year's gold medal team along with Brittney Graff and Megan Ballock. That team eventually went on to state.
Colman's performance was part of another dominating effort by the Cardinal girls as they defended their 2005 Frontier League crown with a 120-point finish. The score was 223 points better than that posted by second-place Gardner.
Senior Carrie Lister maintained her season long form by capturing medals in three field events, including a first place and school record shot put performance.
Her final throw of 38-8 1/4 was an improvement on the school record she set only one week before at Wellsville's Redbud Classic.
Lister opened the day with a third-place showing in the javelin with a distance of 112-1. The throw was only outdone by Spring Hill's Lacey Cunningham and Osawatomie standout Jessica Jones, who won the competition with a meet record throw of 125-5.
"Carrie's pretty strong in the shot put," Katzenmeier said. "But what's nice about her is that although her performances vary in the discus and javelin, she always finds a way to compete and score well."
Back on the track, the 400 relay team consisting of freshmen Wingebach, Tianna Dunnaway, Rachel Pyle and Kendal Abel came within just three one-hundreths of a second of capturing the title in the event.
Pyle squared off in the final leg of the relay and found herself in a dead heat with Wellsville's Aubrey Moore, but couldn't quite come away with the victory. The
Eagles took the event with a time of 51.72.
"The girls had a chance to win the event, but they muffed a couple of hand-offs," Katzenmeier said. "They're really going to have to run well in regionals. The competition will be pretty tough in that field."
In a loaded boys Frontier League field, dominated by Baldwin, senior Nolan Smith kept on course in pursuing another berth at state by tying for third place in the pole vault with a final attempt of 12-6.
"He has a pretty good chance to go back to state," Katzenmeier said. "He performed well at this meet and the field at regionals may not be quite as tough as it was here."
Smith also scored points in the 200-meter run with a time of 23.44 seconds, which was good for sixth place.
Overall, the boys team finished in ninth place with 13 points, one point behind De Soto.
The Cardinals travel Friday to Tonganoxie for the 16-team regional meet, where the girls will attempt to make another title defense.
Along with the entire roster of Frontier League teams the Cardinal boys and girls will face teams from Basehor, Kansas City Ward and Piper.
"We feel pretty good going into the meet," Katzenmeier said. "I think those that medaled in the Frontier League meet will have a good shot at getting through to state."

Girls team standings:
1. Eudora 120; 2. Gardner 97; 3. Baldwin 89; 4. De Soto 54; 5. Wellsville 49; 6. Osawatomie 46; 7. Anderson County 32; 8. Louisburg 31; 9. Paola 29; 10. Prairie View 23; 11. Spring Hill 22; 12. Ottawa 12; 13. Central Heights 8.

Eudora placers:
Shot put: 1. Carrie Lister, 38-8.25 (School Record)
Discus: 2. Carrie Lister, 113-7
Javelin: 3. Carrie Lister, 112-1
Pole Vault: 5. Allison Hoover, 9-0
200: 1. Emily Ballock, 26.46; 5. Rachel Pyle, 28.18
400: 1. Megan Ballock, 59.27 (Meet and School Record)
800: 2. Megan Ballock, 2:25.38
1,600: 3. Brittney Graff, 5:27.59
3,200: 2. Brittney Graff, 11:19.53
High hurdles: 1. Emily Ballock, 15.38 (School Record)
300 hurdles: 1. Emily Ballock, 44.43 (Meet and School Record)
400-relay: 2. Alisha Wingebach, Kendal Abel, Tianna Dunnaway, Rachel Pyle--51.75
1,600-relay: 1. Emily Ballock 59.1, Rachel Pyle 66.6, Brittney Graff 62.8, Megan Ballock, 60.9--4:09.57
3,200-relay: 1. Brittney Graff 2:23.2, Lauren Colman 2:34.8, Alisha Wingebach 2:34, Megan Ballock 2:21.2--9:54.23 (Meet Record)

Boys team standings:
1. Baldwin 144.5; 2. Gardner 96; 3. Spring Hill 94; 4. Ottawa 68; 5. Louisburg 62; 6. Paola 54; 7. Wellsville 28; 8. De Soto 14; 9. Eudora 13; 10. Anderson County 11.5; 11. Central Heights 10; 12. Osawatomie 9; 13. Prairie View 8.
Eudora placers:
Triple jump: 5. Jordan Katzfey, 40-3
Pole vault: 3. Nolan Smith, 12-6 (tie)
200: 6. Nolan Smith, 23.6
3,200: 7. Cody Burns, 10:35.6