Recreation complex out for bid after council approved final design
With tile, carpet and gym floor samples in tow Oct. 23, project architect Jay Zimmerschied of BG Consultants led the Eudora City Council on a final conceptual tour of the Eudora Community and Aquatic Center.
By accepting the final design for the pool, the council took the last step needed before putting the project out for bid. The council also kept the project in step for a projected 2007 opening.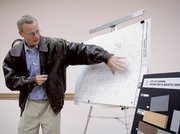 The tour comes after a citizen bond committee tweaked the final plans of the $3.8 million project passed in August.
To bring the council up to speed, Zimmerschied presented several sets of plans detailing the center's composition.
As Zimmerschied moved from sample to sample, the council saw details fill in.
"Big picture on the outside, the goal was to create a building that has some excitement, some color ---- something that would attract people," Zimmerschied said.
At first, Zimmerschied pointed out familiar features like a zero depth entry point and water slide area. Eventually he proceeded to delve into more detail. He noted water features like tumble buckets, which he said dump water on people.
Zimmerschied also pointed out how the pool would be ADA compliant.
"It doesn't need a ramp, just a second entry into the pool," Zimmerschied said.
On the plan, Zimmerschied pointed out an area reserved for a possible of a lazy river.
Although the river isn't currently included as part of the first building phase, it might be added later depend
ing on the final bid price, he said.
The final bond amount left space for possible increases in building cost, he said.
"We're hoping we're a little high on this number," Zimmerschied said.
If the city doesn't need the additional money, it will have a little extra to spend, Zimmerschied said.
"What we've got here is a shopping list," Zimmerschied said.
The list includes burnished block for the outside of the building and other water features, he said.
Zimmerschied had samples ready for the inside of the building.
The exercise room, for instance, will have sponge-like flooring created for weight rooms.
The basketball court will have hardwood floors.
His company has looked at how the center might age.
"We've made some minor modifications to the floor finishes," Zimmerschied said. "It makes them more durable, which I think will serve the facility well over the course of time."
Zimmerschied said he made sure to get input from incoming parks and recreation director Tammy Hodges. Hodges will begin Nov. 13.
After Zimmerschied's presentation, City Administrator Cheryl Beatty told the council certain aspects of the plan remain fluid such as specific colors. The major details are set, she said.
"You wouldn't change from brick, because that's major," Beatty said.
The council passed the final design plans unanimously.