Gas leak causes evacuation
Updated at 9:35 a.m. Saturday
Leaking gas Friday forced the evacuation of several tenants in the C&S Market complex in the 1400 block of Church Street.
Upon investigation, the Eudora City Fire Department and a representative from Atmos Energy found six gas leaks in different office buildings in the complex, including two at Gambino's Pizza/Hero Deli where the original call was made.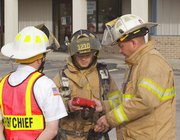 Tenants at Coldwell-Banker/McGrew Real Estate, Gambino's Pizza/Hero Deli, Ashley Alterations, The Eudora News and Cardinal Cleaners were asked to evacuate while the investigation took place. All were able to return to their businesses after about an hour, and once Eudora Fire Chief Randy Ates declared the building safe for re-entry.
"It was one of those little calls that just mushroomed," Ates said.
The gas odor was noticed at about 1:30 p.m. when Gambino's manager Sheena Warrington noticed the smell of natural gas in the restaurant's kitchen.
"I just started to smell it," she said.
Warrington and Tiffany Nixon, another manager at the restaurant, decided to call and have the odor investigated.
Two engines and a Eudora police officer responded to the call and began evacuating the nearby offices.
"Everything seemed to work well," Ates said. "Nothing went bang."
Both fire engines were brought in as a standard safety measure, Ates said.
One engine remained by the offices. Ates posted the other engine by a hydrant to relay water to the first engine in case a fire had started.
During a preliminary walk through the offices, firefighters immediately noticed the leak.
At the time, Ates surmised the leak might have been coming from a bank of gas meters behind the complex.
The screen door at Gambino's, which had been open, might have been sucking the fumes in, Ates said.
Atmos Energy later confirmed the leak at Gambino's. In addition, investigators found a leak on the restaurant's hot water heater and four other leaking furnaces in the surrounding offices.
Ates said the age of the heating equipment was a probable cause of the leaks.
"It's one of those things that just kind of snuck up," he said.
C&S Market complex owner John Simpson said he was glad the leaks were caught early and before further damage occurred. He also said he would replace all the leaking equipment.
The fire chief said the damage could have been much worse.
"It appears all these leaks are small leaks," Ates said.