Island Story
Magic abounds in fall musical set in the Caribbean
Eudora High School's fall musical "Once on This Island" works on the simple internal truth that love does not always conquer all. That's right, folks. The happy ending just isn't happening ---- at least not on the face of things.
But in between the first act and the final curtain, the high school drama department leads the audience on a journey filled with mischievous gods, torn lovers and the constant drum-filled ambience of the French Antilles. The story might not be standard, but neither is the final product.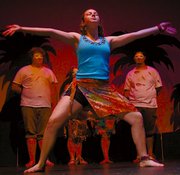 "It's edgy," said director and vocal music instructor Angela Yarnell.
For this year's musical, she wanted a story that catered to the talent of her cast, while taking a different approach than years past, she said.
She found "Once on This Island," based on the novel "My Love, My Love," by Rosa Guy.
The musical, written by Lynn Ahrens with music by Stephan Flaherty, is a Caribbean take on the classic "Little Mermaid" story by Hans Christian Andersen. It tells the story of Ti Moune (Kim Scherman) a lower-class girl who nurses the upper-crust Daniel (Paul Chaffin) back to health after a car crash. Ti Moune becomes infatuated with Daniel, and Daniel falls for the earthy beauty of Ti Moune.
"It's one of the more serious things we've done, but I really like the balance," said Morgyn Carey who plays Mama Euralie, Ti Moune's adoptive mother.
Throughout the play, the two characters survive at the whim of the gods of earth, love, water and death.
Their fate becomes tied to a bet between the gods that death ---- Papa Ge (Josh Blaisdell, Kent Swanson) ---- can defeat the goddess of love, Erzulie (Brittany Pittman).
The cast helps the audience experience the outcome of the bet in a series of songs and dances steeped in calypso and the flavor of the Caribbean.
Because class differences on the island were just too strong, Ti Moune is eventually saddled with the choice of killing Daniel to guarantee her survival or dying to save him.
"It's got a more important moral story to tell, which is death is stronger than love," Chaffin said.
The musical showcases fantasy-themed costumes and tropical locales, and its share of production challenges.
"Always the most challenging part of this is putting the whole thing together," Yarnell said.
Preparing for the play has been challenging for the cast.
To get into Daniel's character, Chaffin said he'd been spending time acting rich, perfecting the right demeanor of the upper class.
Scherman said she also spent time getting into Ti Moune's character.
"It's different, but it's so much fun," Scherman said.
The play will be at 7:30 p.m. Thursday and Saturday at the Eudora Middle School auditorium, 2635 Church St.
Ticket prices are $5 for adults and $3 for children 10 and younger.