Communications director on point for district
There are no normal days for Eudora USD 491 Communications Director Kristin Magette.
After four months, certain tasks like updating the district's newly launched Web site or preparing research for an upcoming bond issue are routine, she said.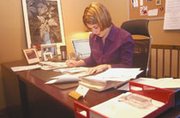 But at any time Magette might have to drop what she's doing to help the district work through an emergency or to field calls from the media.
Her average day is characterized by variety.
"I did have people say they needed to buy me a hat rack because I was wearing so many different hats," Magette said. "But, I enjoy that."
The district hired Magette in the summer to improve communication with the community.
"I don't bring an attitude that I'm here to fix everything that's been wrong," Magette said. "I come here so that I can help enhance what's been going on."
She's brought finished projects like a revamped Web site and districtwide newsletter. She's also working on an ongoing project to standardize the district's image or brand. To keep everything uniform, she approved logos for everything from letterheads to apparel.
She joined the district at the same time as her husband, Eric, who is a science teacher at Eudora High School. They have a 1-year-old son Matthew. She chose Eudora because it was closer to her extended family, she said.
Originally from the Shawnee Mission area, Magette comes to the district after working in the public relations department at Kansas State University's Salina campus.
There, she honed her skills as a strategic communicator by working with functions both big and small.
The biggest event was when airplane pilot Steve Fossett chose Salina as a home base for his Virgin Atlantic Global Flyer project. In one flight, Fossett flew around the world without refueling.
Fossett worked with Kansas State University students during his flights, and when national and international media needed information from the university, Magette was there.
"The star power was what made the first flight so exciting," Magette said. Magette saw reporters from CNN, Fox News and other outlets.
She thought her first experience with Fossett's flight would be a "once in a lifetime experience," but included the university Fossett in more adventures.
"The third flight was by and large the most fulfilling. It was all run in K-State," Magette said. "It was very organic in nature. Our students ran mission control ---- we ran the Web site and updated a blog."
It didn't matter the third flight didn't garner the same buzz as Fossett's previous attempts.
"We didn't have that kind of attention for the third flight, but the attention we got was really focusing on our students and really how the university was involved, and that was the most gratifying to me," Magette said.
The Global Flyer work was also a learning experience, Magette said.
"What I learned was how to balance," Magette said. "I learned that I enjoy balancing a lot of different types of projects. I like to keep thinking I like to specialize but I keep ending up in jobs where I'm a generalist, and I enjoy that."
So far, her job in Eudora has given Magette more focus, she said. She had to adjust to the kindergarten through 12th-grade culture after coming from a university background, Magette said.
"I think that 50 percent of my job is collaborating with people who are the troops, the people who are teaching in classes, people who have students in their offices on a regular basis, and making sure that my branding efforts and the Web site actually reflect who we are," Magette said.
With a renewed focus on communication, more people will know the positive things the district can accomplish, Magette said.
"I have the feeling that we're really on the verge of being able to put that on a very wide base and let people around the state and hopefully around the region know about the quality that's taking place in our district. It's very exciting," Magette said.