Eudora High School wrestling coach Bill DeWitt said he had several goals for the season. The first is to win the extremely competitive Frontier League tournament. The second is to finish in one of the top 10 places at state, something of which Eudora has not done in recent history.
Although his goals are lofty, DeWitt said they are all within the team's capabilities.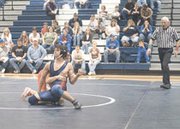 "The kids are showing up and doing well at practices," DeWitt said. "We have a good senior class this year, so I'm looking forward to this season. It should be great."
Eudora's showing in Tuesday's season-opening dual went a long way to justify DeWitt's confidence. The Cardinals won seven of 14 matches against a strong Santa Fe Trail team.
The dual started slow for the Cardinals when they lost the first three matches in the lower weight classes.
"They had some really good light guys," DeWitt said. "That's where they got us, but it was good to see some of our lighter guys wrestle."
However, things started to pick up when Max Campbell bested his Santa Fe Trails opponent 10-3 in the 119-pound weight class. Michael Whitten, wrestling in the140-pound class, and Matt McPeek at 130 pounds continued the trend with massive wins of 10-4 and 18-1, respectively.
With two seconds left in the next match, Kyle Scrimsher, who wrestled at 152 pounds, assured his victory by taking his opponent down for two points.
Loni Ogden, who wrestled in the 171-pound class, and Tim Durkin, who wrestled in the 215-pound class notched pins while Evan Meyers won the 189-pound match, 7-1.
"Loni Ogden had a big match at 171 for us," DeWitt said. "Then Evan and Timmy followed it up nicely."
With eight returning seniors, DeWitt said he was especially happy with working with them for one reason -- this was the first class he had the opportunity to develop through the whole wrestling program.
"They truly are a class I've had since I've been here," DeWitt said. "They know what they are doing here, so we're going to have a very mature team."
Returning this year are Ogden, Durkin, Whitten, Travis Clarke, Campbell and Scrimsher. Of the 14 varsity boys who wrestled Tuesday, 10 just finished a successful football season, which DeWitt said helped with the team members' continued conditioning.
Although DeWitt said every team member brings quality to the program, he expected Whitten, Durkin and Meyers to really lead the team to a successful season. He also said there was no doubt in his mind Clarke and Ogden would have a great season.
But despite how much the team is looking forward to a good season by setting high expectations and goals, the memory of their poor showing at state last year could still be bothersome to them. DeWitt said the fact that none of the individuals who went to state had a good meet was the driving force of this season.
The Cardinals sent four wrestlers to the season-ending meet, and came away with only two victories and a 2-8 record.
"It's a source of motivation for the kids this year," DeWitt said.
DeWitt said the first few weeks have been dedicated to reiterating the fundamentals of wrestling. He said the beginning of the season was just a lot of repetitions and getting the guys up to an acceptable athletic level.
In all, DeWitt said he was extremely proud of the boys' first showing against a very tough team.
"I wish we would have picked up a few more points," DeWitt said. "But they are a good team and we wrestled well. For a dual two weeks after the start of practice, I'm very proud. Our team made a very good statement against them."