Sworn to service
Former state representative tapped for council position
After four years away from the political arena, Jeff Peterson answered the call Monday to serve again.
Mayor Tom Pyle appointed the former member of the Kansas House of Representatives to replace former councilman Kevin Miller. The council position's term expires in April, when it and two others will be contested in the spring city election.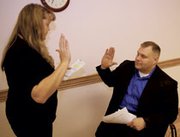 "I'm very grateful," Peterson said.
Political involvement is nothing new to Peterson. As a child, his mother served on a local school board. In his late 20s, Peterson represented Manhattan in the House from 1998 to 2002. He decided to give up his seat in the middle of his last term to focus on his wife and career, Peterson said.
He moved to Eudora in 2004 and works at Edward Jones in Lawrence.
After Miller resigned and Pyle called for applicants to replace him, Peterson snatched at the opportunity to serve the community.
"I really come with an open mind and without an agenda," Peterson said during the application process. "I just want to try and serve. I want to help the community."
Now, the 34-year-old represents a different constituency. In the beginning of the search, Peterson said he represented the growth of Eudora.
After swearing in, his responsibilities began.Peterson said he's looking forward to hearing from all the citizens of Eudora.
"I'm thankful for the opportunity. I look forward to serving on the council," Peterson said.
When Peterson took his spot at the council table, it marked the first time a full council convened since Miller's Oct. 23 resignation.
Pyle chose Peterson over four other applicants.
The choice wasn't easy, Pyle said at the beginning of the city council meeting.
"We had five that I consider very strong candidates," Pyle said.
Each of the candidates had comparatively new ties to Eudora, Pyle said.
Both Pyle and Council President Lori Fritzel ---- who helped interview the applicants ----joked the competition was so even, the winner could have been drawn from a hat, Pyle said.
The appointment drew approval from both Fritzel and Councilman Dan Gregg.
Although no one vocally opposed the appointment, Peterson did not garner unanimous support.
Both councilman Scott Hopson and councilman Bill Whitten wanted more information.
"I don't have the foggiest idea of what any of these guys are about," Whitten said.
Hopson said he was also in the dark about the applicants.
"As a city councilman I would have liked to maybe have had the opportunity talk with the people," Hopson said.
Hopson said he had nothing against Peterson personally. Hopson couldn't make a decision on the appointment because it was the first time he had seen Peterson, he said.
"I wish I had an opportunity to meet you, sir, prior to this," Hopson said.
Fritzel and Gregg voted for the appointment. Whitten and Hopson abstained.
Peterson said he has plans to run for the seat in April.