Chino races to front of pack
Joey Chino said he doesn't blame opposing coaches or his cross country opponents for not remembering what he did last year at the state cross country meet.
Heck, Chino said he'd wouldn't mind forgetting how it all worked out.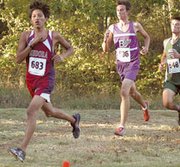 But that was a year ago and a few things have changed since he finished 65th at the Wamego Country Club golf course in the biggest race of the year.
For one, there isn't a state-minded Class 4A coach or runner anywhere who isn't well aware of where Chino finishes, and now the Eudora senior in only his second year of cross country hopes to take the initial steps toward erasing his own memories of last year.
"It was a horrible experience at state last year," Chino said. "I just panicked in the big atmosphere. I hope I can do way better this year."
Chino was disappointed by how he ran at last year's state meet, but he didn't register on opponents' radar because even he admits he was just a part of the pack. He was third on the team at both regionals and state, and both the runners in front of him returned this season.
But again, a lot has changed.
Chino tore away from the starting line at last week's league cross country meet at Rim Rock Farm and he led through much of the race. He was edged into second place in the final stretch of the five-kilometer race by Baldwin's Chris Elniff.
It's a remarkable turnaround, and Chino said he is well aware that he has two remaining opportunities to make the story even better.
He finished nearly two minutes behind Elniff at state last year. There were 62 runners between Elniff, who finished in third, and Chino.
Now Chino said he's gunning to not just close that gap, but erase it completely.
"I should have been able to be with (Elniff)," Chino said of the league meet. "I think I can pick up the pace."
Chino is far from the only Cardinal who aspires to make a mark at Saturday's regional cross country race in Garnett.
Brittney Graff came up just short in her quest to defend her Frontier League title from a year ago, finishing 13 seconds behind Baldwin's Heather Garcia.
Graff and Garcia have broken from the pack dueled all alone every time they've met this season, and the drama should only increase as the two careen toward the ultimate prize -- the 2006 state championship.
"Brittney was happy with how she ran, and I was," Eudora cross country coach Paul Boone said. "She's going to leave it all out there on the course, but so is Heather. But Brittney's showing improvement. She'll have opportunities in the next couple of meets."
The Eudora girls team won the regional championship last season, but graduation took its toll and injuries have slowed those that did return, keeping the team from being considered a threat to repeat this season.
Still, Boone said there's plenty of opportunity for the team to earn another trip to state. Emily Ballock is just getting back in stride after missing the middle part of the season with an injury and Lauren Colman turned in a solid race at league.
Colman finished 17th on the four-kilometer course, crossing in 17 minutes, 18 seconds. Ballock wasn't far behind, finishing 27th in 18:02.
"It was a good race," Boone said of league. "Some years you have good fortune with everyone being healthy, but this year it just seems we've had trouble getting into the flow. But things are coming together.
The boys team also hopes to pull a little inspiration from its 2005 regional meet. Senior Cody Burns led for much of the race and finished third as three Cardinal boys qualified for state.
The team was fifth at that meet, but fell only four points shy of second place. Now Boone said the goal is to send the whole team to state, and it's a real possibility, he said.
It'll take great races from seniors Chino, Burns and Tim DeArmond, and several younger Cardinals, but it's a possibility, he said.
"All of our guys are going to use that to drive themselves," Boone said. "Our guys will have to run really well to make it and we'll have to have personal bests up and down the line."