Curves ahead
Promise of shapelier bodies brings women to new Eudora gym
In between repetitions on a weight machine Monday morning, Curves gym member Vicky Tuttle said why she attended the gym's signature 30-minute workouts.
"You get energy," Tuttle said.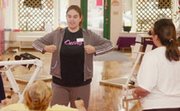 Also, compared to other workouts, she's not as sore afterward, Tuttle said.
That suits one of Frankie Beyer's philosophies toward her job.
"Everyone has to exercise," Beyer said.
Beyer operates Curves ---- a gym catering to women -- at 704 Main St.
The business allows women to get a daily workout in their own time, Beyer said.
"I like to help the ladies reach their goals," Beyer said.
While ladies strive to reach their goals, they take part in the Curves experience.
The inside of the gym is bright pink, with splashes of purple or green on the walls.
A circle of bright white exercise equipment in the center breaks up the predominantly pink interior.
The atmosphere is further accentuated by thumping speakers.
Standards like 'Over the Rainbow' or 'The Star Spangled Banner' get a techno makeover designed to keep customers moving.
"It sounds a little funny at first, but you get used to it and it's normal," Beyer said.
So far, Beyer has worked with customers of all ages. Most of them are older ---- usually women from in their mid-20s on ---- but she's worked with younger girls from time to time, Beyer said. The cutoff is usually 12.
"Each person is a little different," Beyer said.
Although individual needs are different, most workouts follow the same pattern.
"When they initially come in here, we set goals," Beyer said. "I help them set realistic goals."
Beyer will make sure the new members find a goal that's reasonable giving their current weight or health conditions.
The fight for health isn't always only against flab. Beyer has worked with participants struggling against the onset of diabetes or other maladies.
In one case, Beyer worked with a customer who had to have an external oxygen tank to exercise.
Beyer said she held the tank as the client went from station to station.
Eventually, Beyer noticed the customer using the tank less and less.
"She got to where she hardly ever used it."
Although each individual and their goals might differ, the workout follows a set mold.
It's divided into five major sections with emphasis on cardiovascular work and strength training. Each session usually lasts about 30 minutes, Beyer said.
First, participants begin with a warm-up exercise before starting in on the circle of equipment.
Each piece of equipment strengthens a different body area ---- either arms or legs or elsewhere.
Different pads intersperse the equipment, giving participants a chance to have both a high and low impact workout.
After about five minutes at each station, a voice cuts over the music to announce it's time to move on.
The quick pace represents one of the workout's advantages over a standard gym, Beyer said.
"You get your strength training and your cardio at the same time," Beyer said.
After completing the round, Beyer leads the participants in a series of stretching exercises.