Masterpiece theater
Girls team, Burns and Chino to join Graff in Wamego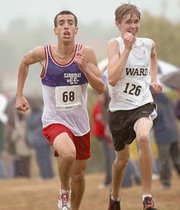 It's 10-second battles.
The girls four-kilometer cross country race at Saturday's state championship at the Wamego Country Club golf course will certainly last more than 14 minutes.
Eudora senior Brittney Graff said if she's to win, to defend her Class 4A individual title and to knock off rival Heather Garcia of Baldwin, she's going to have to win approximately 140 10-second battles.
"My plan is to focus on staying with her for the next 10 seconds," Graff said. "After the first mile she tries to push the pace, and I need to stay up with her."
It makes for a fantastic story no matter how it is sliced.
Graff will likely have to run the best race of her life if she's to defend the title she won with ease a season ago.
Garcia was a middle of the pack runner at this time a year ago -- slowed by injuries -- and she was likely more worried about her team winning the state title than she was about a championship all of her own.
That was a lot of 10-second fights ago, however. Graff had a streak of seven-straight cross country wins snapped at the first meet this season. The streak snapper -- Garcia, of course.
It's been a reoccurring theme. The pair hasn't matched up at every week of the season, but when they have it's been the same story.
They both seemingly break from the main pack within a blink of the opening gun. Then they run side by side for mile after mile, one sometimes pushing a few steps ahead, but the other always answering.
And it has ended the same way every time. Garcia has pushed one too many times and Graff had fallen back.
Good luck getting Graff to cede her title as state champ, though.
As far as she's concerned, she's concerned she's only 140 battles and one sweet victory from another gold medal.
"I feel I'm a little stronger than last year," Graff said. "It's more fun this way. I like it a lot better with her there. It would be a lot more meaningful to win it this year because she's healthy.
"It would mean a lot more."
There's plenty of reason to think Graff can run down her opponent, too.
Garcia finished one minute, eight seconds behind Graff at state a year ago, but she finished 19 seconds ahead of her at the first meet of the season, an Aug. 31 race at Anderson County.
The gap widened by another second the next week at the Wamego Country Club golf course, where this weekend's state meet will take place, but ever since, Graff has been slowly closing.
Graff reeled off six-straight victories after the loss at Wamego, but fell again the next time she faced Garcia. The gap was again closer, however. Graff was 13 seconds back at league, then at Saturday's regional meet, Graff was only 10 seconds back.
"I still have my best race in me," Graff said. "I need to be confident in myself and stay focused on the race. Sometimes I get down on myself because she's beat me so many times, but I need to think the right way."
Graff will have plenty of supporters Saturday, and they won't all be watching her race either.
Graff led the way, but a strong performance across the board bought the Eudora girls team a ticket to state for the fifth-straight season.
Lauren Colman was 22nd, finishing the four-kilometer course in 17 minutes, 11 seconds. Emily Ballock was 28th in 17:28. Liz Hoese was 33rd in 17:57. Molly Brunton was 36th in 18:06 and Anne Marie Meyer-Myklestad was 48th in 18:39.
It all added up to third place.
The Cardinals finished with 112 points, well behind second-place Baldwin, but ahead of Basehor-Linwood's 125.
"Last year we came in and we were going after De Soto, but this year we had to battle it out for third," Ballock said. "We aren't as strong as we were last year, but we came together and we beat the people we needed to beat.
"It was a lot harder and we're all really excited."
The guys will have plenty on the line when they line up at state as well.
Joey Chino broke through to win the regional championship at Garnett, finishing the five-kilometer course in 16:55, eight seconds better than Baldwin's Chris Elniff.
"Joey's a competitive kid and he's put himself in a spot to vie for a state championship. I'm just really proud of him and happy for him and he's really worked his tail off to get to be where he's at.
Cody Burns also qualified as an individual for the second-straight year.
It was important to make it, he said. A disappointing showing at last year's state meet was on the mind during every sweaty summer workout, the senior said.
Now he has the opportunity to do something about it.
Burns was 11th in the race at 17:49.
"I just need to be more competitive in my second mile," Burns said. "All summer that's what was pushing me. I want to be in the top 20 and get a medal. I've never medaled in the state meet before."
More like this story