Labor Day accident injures two
Police say sunlight was in the eyes of a teenage driver who struck a father and his daughter who were out for a bike ride Monday evening in Eudora.
According to the police report, 17-year-old Clara Spring struck Aaron Bell and his 3-year-old daughter Emalee, who were flown by air ambulance to Kansas City hospitals. But police said Tuesday their injuries weren't considered life-threatening.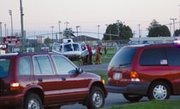 Spring -- who drove a Mazda Protege -- was not cited for any traffic violations.
Two helicopter ambulances were dispatched to the accident scene near 14th and Ash streets in Eudora about 7:15 p.m. Monday.
Emalee was transported by Life Star helicopter to Children's Mercy Hospital. Her father was transported by Life Net helicopter to University of Kansas Medical Center in Kansas City, Kan.
Barbara Muth, a spokesperson for Children's Mercy Hospital confirmed Wednesday Emalee was no longer a patient.
Alisha Wingebach, a witness who called 911, said the father was pulling his daughter on 14th Street in a wagon-like carrier behind his bicycle when a westbound car struck them from behind. The accident shattered the windshield of the car.
The accident slowed traffic near 14th and Church streets as the two helicopters landed at nearby Nottingham Elementary School.