Girls put pedal to mettle in car classes
To Eudora High School senior Beth Folks, it was just a good idea.
She's a car person and after learning about the Eudora/De Soto Technical Education Center's automotive technology courses, she was hooked.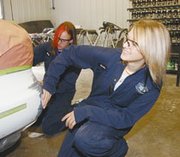 The fact she might be able to fix her own car one day didn't hurt either.
"It seemed like a good idea, and it is a good idea," Folks said. "I've had a lot of fun."
She isn't alone.
After automotive technology teacher Heath Daniel took roll on the first day of class this semester, it was clear the girls had arrived.
In between two classes and 65 total students, he called the names of 10 different female students ---- almost unheard of in his years teaching the largely male-dominated class.
"Normally I had one or two, but the number was higher this year," Daniels said. "That's kind of unusual as far as a ratio."
He attributed the influx to the state of the automotive industry.
"There's been quite a recruiting push the last few years for ladies and minority workers in this industry," Daniel said.
People are learning that the automotive industry pays well and its image is slowly changing, Daniel said.
"It's not as dirty an occupation as it once was," Daniels said.
Dirt never really played into Eudora High School sophomore Devan Crowe's decision to join the class.
"It'll help me know more about cars than my brothers or my dad," Crowe said. "It's cool."
While Daniel's new students represent the changing human face of car repair industry, his class this year will focus on the application of real-world skills.
"We're concentrating more on the collision aspects more than restoration," Daniel said. "It's more production-type work I guess you could say."
The curriculum ---- though challenging ---- suits Eudora High School junior Jordan Pettengill.
"It's hard for me to remember some of the things, but I'm really liking this class so far," Pettengill said.
The class' ongoing projects in the auto tech garage reflect Daniel's emphasis on real-world applications. Among the projects are a white 1999 Pontiac Sunfire and a 1993 Chevy pickup still under repair from last year's class.
This year's students are also gaining experience from a new assistant instructor ---- Kim Horton.
"That definitely helps with numbers," Daniel said.
In his experience, females students had some natural advantages over their male counterparts when it comes to his class, Daniel said.
The girls have slightly better hand-eye coordination, Daniel said. "They listen more intently and put to use the information you give them."
Eudora junior Mary Braught said she liked the pace of the class.
"You don't just come out here and screw around," Braught said.
So far, at least one recent female graduate of Daniel's class has found success in the real world.
Hanna Niedens ---- a 2006 Eudora graduate ---- found a job as a painting assistant at a Tonganoxie auto body shop, Daniel said.
Daniel said there might be similar opportunities for his current students, too.
"We're actually getting them employed as well," Daniel said.