Planting seeds
First-year teacher cultivates students in agriculture
Agricultural science teacher Kristy Taylor has a point to make.
"My main focus is to have students learn that 'ag' is not just about tractors and crops," Taylor said.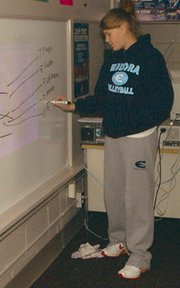 To prove her point, the first-year teacher for the Eudora-De Soto Technical Education Center leads her students in lessons ranging from landscaping to animal physiology. The classes are taught at the Countryside Learning Center in De Soto.
As part of her animal science course ---- an advanced offering in the program, which resumed this year ---- Taylor compared the human respiratory system to one of a chicken.
"Notice the chicken does not have a larynx or pharynx," Taylor said Monday morning as she pointed to a diagram projected on the wall.
The lesson is indicative of her style.
This particular class had just five people, but so far they have been taught the major systems of the human body and those of a few select animals.
"Mainly when I give examples, I use a cow. Then I relate it to the human body; then to other animals depending on how different they are," Taylor said.
Her classroom reflects her purpose. On the shelves, there are boxes containing transparent models of cows and horses. In one corner, a large open fish tank contained gray-colored and bright orange fish and a Future Farmers of America flag hung on the back wall.
Classroom setup aside, almost all of her teaching style puts learning directly into her students' hands.
"I like all the hands-on work we do," Eudora High School senior Allison Braden said. "Like the other day, we dissected a calf's stomach."
The hands-on experience is key to student learning, Taylor said. In addition, the students are working to raise money to attend a national conference in Indiana later in the year.
She said she liked to have some kind of project with each lesson.
For Monday's project, she directed her students to build a model of the respiratory system ---- containing all the major organs ---- out of items found in the classroom.
To make things easier, or at least add variety, Taylor provided students with sealable bags, licorice candy and hard candies.
While the hands-on projects keep her students engaged, Taylor works to educate them about the wider applications of agriculture.
Of the 15 total students enrolled in the current program, only four either live on a farm or have families with a farm, Taylor said.
Explaining the facets of agriculture or the purpose of the FFA and trying to get them to understand the concepts was perhaps the biggest challenge starting out, she said.
To her students, the concepts are sinking in.
Hannah Brunton was surprised to learn a cow had a four-part stomach.
Brin McLees said she enjoyed the fact the class has so few people.
"We have a small class so everything moves along at a pretty fast pace," McLees said.
The set up makes the students close-knit, McLees said.
"I also really like the class because we get along so well," she said.