Burns, Cardinals make splash at Baldwin meet
There's only one track meet of the year the steeple chase is run: the Baldwin Invitational. That's why Eudora senior Cody Burns will excitedly take the opportunity to participate in the event any time it's offered to him.
Burns' excitement for the steeple chase led him to a first-place finish with a time of 6:51.64, beating his closest competitor by 27 seconds.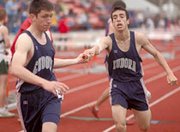 The steeple chase is more of an endurance race than a speed race, as it combines hurdles and a water pit during the mile-long course.
"The hardest part of the steeple chase is knowing when the hurdles are coming up and then making it over them," Burns said. "It takes so much energy just to make it over them."
But Burns said what made the race even more difficult was the fact he cannot spend very much time training for it, because it is run only once in the season. He said he had many other events that deserved more attention than the steeple chase.
Regardless, coach Phil Katzenmeier said Burns' determination and desire to participate in the race more than made up for the lack of training time.
"He did a great job and won the race easily," Katzenmeier said. "For him, it's a very good experience. I think he might try to compete in the steeple chase in his college years. So that's why we had him do it."
Because of inclement weather halfway through the meet Friday night, it was postponed until Monday, when Eudora athletes continued to impress. Overall, the girls team easily finished in first place in the 13-team meet with 123.5 points, 15.5 ahead of second-place Baldwin. The girls took six of the 11 track events at the meet.
The boys team repeated its performance from Wellsville, with a second-place finish at 93.5 points.
"We are just doing great," Katzenmeier said. "What they proved with this second meet is that the first meet's finishes were not flukes. That is great news for us."
Katzenmeier said this season's Baldwin meet marked the first time in several years the Cardinals finished that high at the location. He said it indicated a continued and steady growth in the program.
Austin Hoover had another first-place performance in the pole vault. Although he did not repeat his personal record from the week before in Wellsville at 11 feet, 6 inches, he still claimed the victory adding 10 points for the boys team.
"It's been a tough week for me," Hoover said. "I've been really tight. In the first couple of meets you don't really do your best. I feel like I did better in form this meet, I just wasn't able to clear the heights."
Junior Emily Ballock and senior Brittney Graff also had notable achievements. Ballock took first in the 300 hurdles and 200, setting meet records with 45 seconds and 26.3 seconds (her best all season) respectively. Graff also set a meet record in the 800 at 2:22.7.
Other first place finishes were:
-Ben Katzenmeier in the javelin, throwing it 158-11
-The girls 3,200 relay team, consisting of Alisha Wingebach, Lauren Colman, Lindsey Slavens and Graff, with a time of 10:25.69
-Allison Hoover in the pole vault at 10-6
-Ballock in the high hurdles with a time of 15.99
-The 400 meter relay team with a time of 51.76 and consisting of Wingebach, Kendal Abel, Tianna Dunnaway and Rachel Pyle
-Slavens in the 400 with a time of 63.97
-Burns in the 3,200 at 10:21.6
The Cardinals are scheduled to compete again at 3 p.m. Thursday at Riley County High School. Katzenmeier said he was excited about the meet for one important reason.
"We will see teams that we will not see any other time, and that's why we go there," Katzenmeier said. "We see Abilene, Blue Valley, Pike Valley, Manhattan and Belleville -- most people out here have probably not heard of many of those places. It will be a chance for us to see some new people and compete against them."