Sweep helps softball team bounce back
Pitching, hitting and fielding.
Successfully executing those three components is very important if a softball team wants to win games. Fortunately for the Eudora softball team, the Cardinals nailed those three aspects of the game not once, but twice Tuesday night against Prairie View, coach Cara Kimberlin said.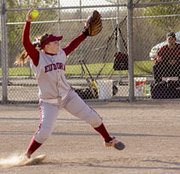 In the first game of the doubleheader, the Cardinals won 14-0 with the game ending at the end of the fifth inning because of the 10-run mercy rule.
Kimberlin said that game saw some superior offensive performances by the Cardinals.
"We were offensively extremely strong tonight," Kimberlin said. "Coming off of Paola last week, we only got two runs. It was nice to come out and score a lot of runs after only playing one game this season so far. By now, most teams have played three or four already."
The second game of the doubleheader also was a Cardinal domination, with Eudora winning that game 10-1 after a full seven innings.
Kimberlin said what made the two games so successful was the consistently strong pitching by Brynn Hamilton, Caitlin Riser and Mackenzie Salzman, who shared duties in the two games.
In the games combined, the pitchers only walked five Buffalos and accrued 14 strikeouts.
But Riser really stood out, contributing to 12 of the 14 strikeouts.
In the second game, Kayci Vickers also was on her mark, making one single, two doubles and two RBIs.
"She did some smart base running tonight," Kimberlin said about Vickers. "She's a good, smart ball player that doesn't make a lot of mistakes."
However, Kimberlin said the second game was not flawless. She said although a lot of the win could be contributed to the skill of the Cardinals, they still made some errors that luckily the Buffalos did not capitalize on.
"We had some mental errors and fielding errors," Kimberlin said. "In a night like tonight, that doesn't kill us. But when you are playing Spring Hill or Paola, that could kill us."
To right those wrongs, Kimberlin said the team was going to continue to work on fielding concerns that manifested themselves in the second game.
The doubleheader wins to Prairie View came on the heels of the season-opening loss to Paola last Wednesday, 3-2.
The Cardinals are scheduled to play against Spring Hill at 4:30 p.m. Thursday in Eudora. Kimberlin said the level of competition Eudora will see has the potential to be extremely debilitating from the beginning of the game.
"They will come out and hit the ball hard immediately," Kimberlin said. "They are an aggressive hitting team and are well coached. They haven't lost a game yet -- it will be a tough game. I would expect them to come out in the first inning and just attack the ball. I wouldn't expect them to do anything differently."
The Cardinals are 2-1 for the season.