Instrumental dreams
Handcrafting instruments lifelong passion for local man
Scot Hamlin could work months crafting a guitar, but never hear its voice.
He could hear hints of it, he said.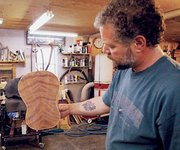 He could tap the wood and hear a certain tone. As he's shaping the body, he could catch a certain vibration.
But it's not until the instrument touches the hands of a musician that Hamlin finally hears it sing.
"There's nothing like the first time someone who is an accomplished player fires it up," Hamlin said.
The son of a woodworker, Hamlin has created instruments for the last 28 years. He works in his garage in rural Douglas County filled with exotic woods like purple heart or the African Makore.
"Here's some walnut that's screaming to be a guitar," he said while going through his stock.
Bodies of mandolins hang in the back of the garage over his workbench. In the center, he's creating a miniature guitar for his grandchildren.
The finish, still in progress, glints in the lamplight.
"It's been kind of fun," he said. "Not much pressure there."
Last year, his shop produced eight guitars, including a matched set of a mandolin and six- string acoustic guitar.
"That's the best sounding guitar," he said.
The pace last year was a bit much for him. He prefers to produce maybe two or three instruments per year, he said.
He works for the Franklin County Road Department during the day, but when he returns home he often finds his mind drifting back to his instruments, he said.
When he's enveloped in a project, it consumes him, he said.
"I get very obsessed," he said.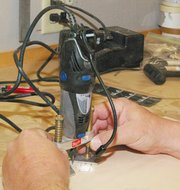 He would often build a guitar four or five times in his mind before he ever touched the wood, he said.
Often a project would bring him out of bed at 2 a.m. and he said he would find himself back in the garage shaping away.
"I make myself crazy because I want to make them perfect, but there's no such thing as perfection," he said.
He likes to tailor his guitars. He customizes his instruments to the varied tastes of his clients. Sometimes that means finding a purple wood for a dulcimer or testing woods to deliver a bright, sunny tone.
"It's kind of a collaborative effort," he said. "I try to build the instrument they want."
That could be time consuming. For the mandolin and guitar set, he estimates he spent about 100 hours building the mandolin and about 60 or 70 hours building the guitar.
"I don't like to say I'll make you a guitar. I didn't make the wood," Hamlin said. "I can build it, but all the other stuff was up to someone else."
He doesn't like to mention price when it comes to his instruments. It depends on the wood, tuners and the complexity of designs inlaid into the instrument, he said.
Because it is a custom piece, materials for a guitar could easily reach $1,000 alone, he said. For a handcrafted mandolin, the price climbs even higher.
Right now, he's focusing on building instruments for his family. His wife, Debi, has a customized dulcimer and his sister has several of his guitars.
He dreams of some day building a guitar for an up-and-coming musician. To find one, he realizes he needs to go to the local music festivals, he said.
Because he doesn't like crowds, finding such a musician might be difficult. In the meantime, he's still building his instruments.
"It's a great thing the first time you hear its voice," Hamlin said.