Welcoming group making name known in Eudora
When Ila Jean Traudt came to Eudora from Nebraska, she didn't know many people.
More than that, she had very little idea what the city had to offer, she said.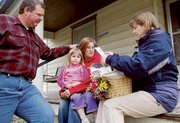 After she heard a knock at her door, everything changed.
She requested a meeting with Marlene Glass and Rayanne Dowell of Lawrence Welcome Inc. The two brought Traudt a basket of goods from the Lawrence area and offered her a listening ear.
"When you're new to a town it's nice to have somebody come into your home and just chat for awhile," Traudt said.
The duo helped orient her to the area, but also planted a seed in her mind.
Traudt realized Eudora didn't have a group like Lawrence Welcome to greet those who were new to the city.
Starting in the next two weeks, because of help from Glass and Dowell, Traudt will be the face on the other side of the door when new and growing families want to know more about the city. Traudt will be responsible for Eudora Welcome, part of the Lawrence Welcome organization.
"A lot of what we do is just talk about the community," Dowell said.
Those interested make appointments with Lawrence Welcome and sit down for about a half-hour to hear what the group has to offer. Traudt predicted it would be much the same in Eudora.
To get ready, the group has been hard at work the past month preparing materials specifically for the Eudora community.
Traudt will have answers ready about city recreation programs, the school district and where to go for food, she said.
"We just answer those questions that families need to know," she said.
In addition to answering basic questions about Eudora, Traudt will bring a basket of items from local businesses for each family.
Glass, Traudt and Dowell approached local businesses to sponsor the basket and the group.
The contents of the basket will range from information from the Chamber of Commerce, essential city numbers as well as coupons from local restaurants and businesses.
"We'll probably focus mostly on the basket, but if they have questions, I can sure fill in some blanks," Traudt said.
Working with Eudora Welcome gives Traudt the opportunity to supplement her responsibilities as a stay-at-home mom, she said.
"I used to teach so I miss that," she said.
By showing new residents the resources available in Eudora, Glass said she hoped citizens would be able to use the amenities in Eudora rather than going out of town.
"That's really one of the big purposes ---- to convince people that a lot of what you need is right here and to support the local merchants," Glass said.
Eudora Welcome could also help people make more connections, Dowell said.
The welcoming committee will give people information about local groups and offer general encouragement to those just starting out in a new place, Dowell said.
"There is a light at the end of the tunnel. You will meet people and it will be better at the end of the day," Dowell said.
Those new to Eudora are welcome to call and schedule an appointment, Dowell said. Any businesses wanting to sponsor the group are also welcome to call, she said.
For more information, call Dowell at (785) 333-3366.