Close game sparks softball team
All it took was one close game against Wellsville for the Eudora softball team to really flex its muscles in the second game of a doubleheader last Thursday. But when all was said and done, the Cardinals went to bed that night with two more wins added to their record, finishing the first game 5-4 and the night cap 10-1.
Going into the sixth inning of game one, it looked like Wellsville might best the Cardinals, leading them 4-1. But thanks to freshman Evan Folks, who went three-for-four with three RBIs and two triples and Madison Oller with two RBIs and two runs, the Cardinals rebounded in the sixth inning to tie the game.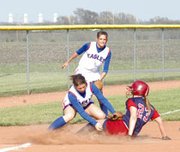 "Wellsville hit the ball hard at the beginning of the game and scored some runs," coach Cara Kimberlin said. "We just didn't seem to have our heads in the game, with our fielding errors and routine groundballs that went between our legs. But by the end of the game, we had some clutch hitting by underclassmen."
Brynn Hamilton was put in as the pitcher in the sixth inning, relieving Caitlyn Riser. She pitched a strong last two innings and didn't give up any runs with her fast and direct pitches. In all, no opponent was able to successfully hit off of Hamilton.
"They really couldn't hit off of her -- they weren't hitting anything out of infield," Kimberlin said. "She just overpowered the Wellsville hitters."
Overall, Kimberlin said the strongest aspect of the team's performance in the first game was its continued drive. She said the team proved it could be really resilient and bounce back from bad situations.
That resiliency, Kimberlin said, further manifested itself in the second game, with the energy and drive being continued from the end of the first game.
"We had a comeback in the seventh in the first game and built some strong momentum that carried through to the second game," Kimberlin said.
The second game was much better, she said. Immediately, Eudora made a quick run. After racking up runs here and there, Eudora took Wellsville down in the fifth inning, gaining six runs.
Senior Brittany Stillian made her presence felt in the batter's box. Stillian had a key double in the fifth inning that produced three RBIs and furthered the distance between the two teams.
"She brings a lot of power to our hitting," Kimberlin said. "She's a strong kid. She typically has many base hits for the year. If we don't have her in the field, we'll (designate her as a hitter) for someone."
But what made Kimberlin most proud of her team was its increased overall defensive and offensive consistency, which was topped off by the strong pitching.
The Cardinals were scheduled to play a doubleheader against Ottawa Tuesday, but the game was called off because of lightning.
Eudora is scheduled to play Central Heights at 4:30 p.m. Thursday in Eudora. Kimberlin said although Central Heights has not won any games yet this season, they shouldn't be overlooked.
"They have a new coach this year, and he's pretty good," Kimberlin said. "They're getting pretty beaten up in games score-wise. But those teams can scare you, too. We just can't afford to take anyone for granted."
"We'll throw Brynn in the first game because of her speed, and we'll just try to overpower their hitters."