Clothing businesses knit together
Eudora residents now have one stop for their dry cleaning, laundry and alteration needs.
Three separate businesses are based at 1402--A Church St., sewn together by their interest in clothing.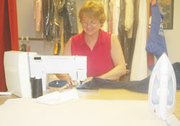 Susan Ashley, owner of Ashley's Alterations, is the newcomer to the group. She moved two doors down from her old business in the same complex in July.
"I'm still in business, just in a smaller space," she said.
Ashley decided to make the move after one of her main clients, the Lawrence-based Prairie Graphics, sold their business to a firm in Minnesota.
"I didn't really need that space anymore so I started thinking about downsizing," Ashley said.
She sews, alters clothes and provides a tuxedo rental service.
Ashley will continue to offer all her services at the new location, she said.
Her business joined Cardinal Cleaners and Hangers on Church.
Cardinal Cleaners recently changed owners. Shari Turnbaugh sold the business to Debby and Jim Smith. The Smiths operates the laundromat along with other businesses in the county.
Few people realize there is a laundromat on this side of town, Debby said.
"We want people to come out and give it a try," Debby said.
Hangers on Church is a full dry cleaning service. Owner Beau Charbonneau opened the business last summer. It uses an eco-friendly carbon-dioxide based cleaning process.
"I think the thing we like the best is the synergy of all your garment needs being met in one place in Eudora," Charbonneau said.
So far, the new arrangement has helped expand the services' hours, Charbonneau said.
Ashley said Charbonneau first contacted her last year about letting customers leave clothes at either business should one be open while the other was closed.
Ashley said she wasn't sure about that type of situation at first.
"A lot of things have to be fitted," Ashley said.
Now because of the changes, it turns out she takes clothes for the dry cleaners and vice versa anyway.
"It has streamlined our process for sure," Charbonneau said.
Ashley maintains hours at the shop during the day, while Hanger's personnel maintain the offices at night.
So far, the transition has gone smoothly, she said.
"It's OK. It's a little crowded," Ashley said.
One benefit of her move is that it has put her into contact with clients she might not have otherwise met, she said. It also gave her regulars the opportunity to discover the laundromat and dry cleaners, she said.
"It's kind of nice people are in and out of the laundromat," she said.
Ashley said she could see how being under the same roof with the other two businesses could help improve her own business skills.
"I think we're going to be able to help each other," she said.
It also meant Ashley had to publicize her move to her current customer base.
"They're adapting," Ashley said. "All they care about is that I do a good job sewing and that doesn't matter really where I am," Ashley said.
"I could do it in a cave if I had good light and electricity," she said.
More like this story