New resource officer ready to serve district
Eudora students will be introduced to a new daily police presence in their midst this year.
With the start of school, Ryan Healzer started as the district's new school resource officer, replacing Tad Teehee.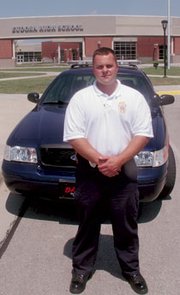 Healzer comes to the district after serving in Johnson County and with the city, he said. He's been with the Eudora Police Department for four years
He said the position was something he was looking for.
"I like to make an impact on some of our youth and try to steer them in the right direction of life as well as being a positive role model and mentor for these kids," Healzer said.
He said his salary is currently paid by the police department.
His new responsibilities start with the safety of the students, but also include the district's Drug Awareness Resistance Education program and membership on student safety committees.
"My main goal in the school district is to provide a safe learning environment for all of our students in all of our schools," Healzer said. "I'd like to teach them the awareness of drugs, drinking and driving, and how to handle everyday stressful situations," he said.
"Kids need to learn how to cope with anger and not turn up fists at every complex situation," Healzer said. "I'd like to teach them how to walk away, to be the better person."
As he goes through his first days, he said he realizes some of the challenges ahead of him. He wants to get to know the students, but he knows it might be a challenge to meet all the students and gain their trust.
Healzer said he wanted to let the students know they can come to him for any problem and described how he hoped to interact with the students.
"I think I interact very well with the ry fair, strict. I like to joke around with them and have a good time."
Healzer said he wanted to establish himself as a presence within the district.
"Being in the school, I want to interact at all sporting events, be involved with them in the hallways and at their lunch time."
In addition to being a resource for students, he was prepared to protect the students in case of a disaster or outside danger, Healzer said.
"If something should arise with an intruder or a situation, I'm going straight to the threat," Healzer said. "I will make sure all the students are safe."
He said he would lead the students out of the building if possible.
"At that point we'd have other experienced officers come in," Healzer said.
Eudora City Police Chief Greg Dahlem said he had heard good feedback from the district on Healzer.
"He's staying busy out there learning their computer system," Dahlem said.
Four days before the start of class on Friday, Healzer said he was excited to get started.
"I'm ready to take on the duties of showing these kids and teaching these kids safety and showing them how to live a good life as a kid," Healzer said.