Elaney Pickering surrounds herself with animals. On Monday evening, she spent time with her dogs and a white cockatiel. The 13-year-old also cares for another bird, rabbits and two cats, but her newest additions were furry mountains of stuffed animals stacked around her and her 8-year-old sister, Elyssa Conrad.
The stuffed animals are souvenirs from Elaney's Aug. 8 visit to the Louisville Zoo in Louisville, Ky. There, she had the opportunity to mix with her toys' real life counterparts. She went to the zoo through the Make-A-Wish Foundation and became a zookeeper for the day.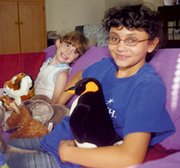 "It was really cool. We were all behind the scenes and everything," Elaney said. "We got to see all kinds of cool stuff."
The Make-A-Wish Foundation is a non-profit organization that gives children with life-threatening illnesses the opportunity to fulfill one of their dreams. Elaney will face surgery in the coming years because of complications arising from a congenital heart defect.
Elaney's dream started when she saw a magazine article featuring zoos across the country. In the article, she found a photo of The Louisville Zoo's baby elephant, Scotty.
The photo clinched it.
"I kind of had to think at first, 'What zoo did I want to go to?'" Elaney said. "Then I found the Louisville Zoo, and I decided I wanted to go that one."
Meeting Scotty became a highlight of her trip.
"It was like a party," Elaney said.
She fed the baby elephant an orange and scampered around with him while Scotty's mom, Mikki, watched.
He wasn't exactly like she expected, Elaney said. He was taller, and she learned young elephants have a different skin texture than she anticipated.
"Kind of like sand paper, but not that rough," Elaney said. "And I thought that he would have little hairs. Maybe a little soft"
At the end of her time with the elephants, Elaney's family received an original painting from Mikki.
"She would paint all around the canvas," Elaney said.
ed time with lorikeets, a polar bear, a giraffe and an orangutan. She had the opportunity to feed them all, although she was kept a safe distance from the polar bear.
"He looks like a big giant dog," Elaney said.
The sisters got a surprise at the black-footed ferret habitat.
"They named one after me and one after Elyssa," Elaney said.
Normally, the zoo releases the ferrets back into wild, but ferret Elaney and ferret Elyssa will remain with the zoo, Elaney's mom, Rebecca Pickering, said.
Elaney topped off her experience by making her own pizza with Elyssa and the zoo's chef.
The Kansas chapter and the Kentucky and Southern Indiana chapter of the Make-A-Wish Foundation made Elaney's trip possible.
"We're very proud of our track record in the area, and we've got about 60 kids waiting for wishes right now," said Pat Greenway, president and CEO of the Kansas Make-A-Wish Chapter.
The foundation's efforts to send Elaney to Kentucky won't soon be forgotten, Rebecca said.
"I think that it's wonderful. It's just such a nice thing. We had just gotten news her heart is getting a little worse and that her left ventricle is starting to enlarge," Rebecca said. "Then going on this trip is like really fun, so we'll have the fun memories."
Rebecca is making a scrapbook of the trip. It could help if and when Elaney has her next surgery, Rebecca said.
"We can look and remember," she said.
For more information about the Make-A-Wish Foundation or to donate, call 1-800-566-WISH (9474.)
More like this story