Regaining life's balance
Four-year-old and family battle back from accident
With her arms outstretched, 4-year-old Alexis Foster steadied herself. She placed one foot in front of the other and inched across the balance beam. She didn't seem to notice the occasional bursts of laughter coming from the children scurrying around her.
Alexis reached the end of the beam and turned around.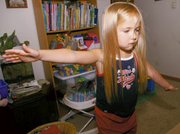 Her mother, Donna Foster, and her father, Phil Foster, watched. Next to them, Alexis' brother, Philip, played on a computer.
The Foster house is full again. Their preschool business, Donna's Little Bugs, has steadily taken on students.
The family moves forward after a year of pain, stress and surprising recovery.
Alexis, who nearly lost a foot in a lawn mowing accident in June 2006, like her family, is becoming whole again.
Out of the shadow
The accident was followed by what seemed like an endless string of surgeries.
"Surgery every other day," Donna said.
Donna described her memories of the time in one word -- "Hell."
At that point, Donna's business was on hiatus and Phil was out of work because of an injured back.
The couple spent about five weeks at Children's Mercy Hospital in Kansas City, Mo., helping support their injured daughter and collecting mounting hospital bills.
While the Fosters spent nights in the hospital, their situation wasn't forgotten at home.
The community responded to the family's plight with donations, a fund-drive and moral support, Donna said.
"The local support was absolutely amazing just in the way they cared for a little girl they didn't even know," she said.
Donna vividly remembered a sign when the family first came home from the hospital.
The family drove back from Kansas City and read on the marquis at C&S Market: "Welcome home Alexis."
First steps
Once home, the Fosters were prepared for the long haul.
The healing process meant the possibility of weeks of helping Alexis learn mobility in a wheelchair, even more time adjusting to a walker and constant appointments for physical therapy.
Armed with the knowledge of what might have to be, the Foster family found another surprise.
The staff at Bloom and Associates Therapy agreed to donate time and effort to Alexis' recovery.
From the first night back from the hospital, Alexis' goal to heal became apparent.
"She woke up and she crawled down the hall and she was just off from there," Phil said.
As her recovery progressed, she was sponsored to go to a Shriners Hospital to help search for prosthetics. Eventually the family found one close to home.
In all, Alexis' recovery came quickly. She was soon out of her wheelchair and walker.
She started taking up sports again. Her favorite is gymnastics, Donna said.
"It was something she was able to do before and something she was able to do after," Donna said.
Alexis' recovery impressed her brother. In fact, he complimented her on how well she was doing.
"I actually said something nice about my sister," Philip said.
A birthday party
More than a year after the accident in July 2007, the Fosters experienced a moment that seemed to bring everything back to normal. Alexis turned 4-years-old.
Before her birthday Alexis would still sleep with her parents. Afterward, she became more independent.
"Everything just like a switch clicked, and she grew up," Phil said.
Now, Alexis moves at close to full-speed. She practices her gymnastics and is contemplating starting soccer.
"Most people you have to tell which foot it is," Phil said.
As Alexis continued to heal, Phil decided to help run the preschool with Donna.
"I know it has been a life-saver for me," Donna said.
With Phil staying home, the family has had more opportunity to spend time with each other.
"I think the whole thing has brought our family together," Foster said.