Cards sweep, but see room to improve
Eudora High School volleyball Coach Jill Stutler will take a 3-0 start to the season, but she wasn't exactly happy followed Eudora's season-opening sweep Tuesday.
She said her team's performance was anything but perfect.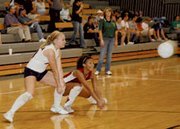 "We were fortunate to go 3-0," she said. "Maybe I just expected more enthusiasm from them on the first night. I saw some plays that were outstanding, but we just weren't able to be consistent and build off our runs.
"We know what we need to work on now."
The team's match against Basehor-Linwood might be the most frustrating one. It was the most contested of the three matches and Eudora won it in three games.
The Cardinals won the first game, 25-22, and then lost the second 24-26.
"We were able to get the cobwebs off," Stutler said. "I like finally getting to see us play other teams. Basehor and Baldwin are much improved and it was nice to walk away with the win. We are an experienced team and I think that we can use that to our advantage."
Basehor's middle hitter Cassie Lombardino had numerous kills during the game and Eudora struggled to stop her throughout the match.
Eudora finally employed that experience in the third game, however, winning the match with a 25-23 game victory.
The match against Basehor was Eudora's second of the night. In the first match, Eudora defeated Bonner Springs, 25-6, 25-16.
Eudora finished the night with a 25-16, 25-11 sweep over Baldwin.
While Eudora won three matches, Stutler said the team could improve on its serving and defense. Eudora players have to block better at the net, she said.
"I think within the next week, we are going to emphasize our blocks and our defense," Stutler said. "It is one thing to just let the ball hit the floor and not go after it. If the other team is going to beat us, we have got to make them earn it."
There were phases where Eudora ran its offense well, but they often ended with missed serves.
"These matches right now give us something we can work on for next week," Stutler said. "Any win right now is a confidence boost, but this was a tough night."
The Cardinals did put up some solid offensive numbers, though. Led by Nikki Snyder with 29 kills, Eudora's top four hitters combined for 78 total kills.
Haley Epperson also added 21 kills.
"We had all four of our hitters involved all night," Stutler said. "Mariah (Webb) was able to spread the ball around. I saw a lot of things, though, that were very correctible."
Elaina Kouri had a solid night defensively as she collected a team-high 25 digs in the three matches. Snyder added to the defense as well with six blocks, three solo and three assisted.
Webb turned in a strong night from the setter position as she distributed 68 assists to lead the team. She also finished with 24 digs and five service aces.
Eudora will have a little over a week off before returning to action Thursday with another away date at Perry-Lecompton. Stutler hopes the time off will help her team get into the right frame of mind.
"Our goal is to improve and try to minimize our mistakes," Stutler said. "With the big break coming up, I am hoping that we can start to spark some enthusiasm. Game time is the fun time and we want to take advantage of that."