Eudora High School teacher in 'Snow Queen' ballet
It's the time of year where family gatherings and events around town, to say nothing of the usual day-to-day grind, keep most people especially busy. But that just wasn't enough for Eudora High School English teacher Shannon Pickett, who will perform the title role in "The Snow Queen" ballet at the Lawrence Arts Center.
On top of weekly classes she takes, Pickett, who is married and has a 2-year-old daughter, now has rehearsal for about three hours each evening and for five hours on Saturdays up until the first performance Friday.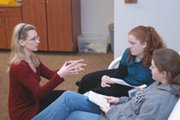 "It hasn't been too bad except the last two weeks when we're kind of putting everything together," she said. "In an ideal world, I'd be taking conditioning classes every day, but as a working adult with a family, I take class twice a week to work on technique."
Luckily, the main source of her hectic schedule also is her source of energy.
"I feel better now than I have all year now that I'm the busiest that I've been. I almost look at it like an addiction; I have physical withdrawal symptoms if I'm out of what I call 'dance shape.'"
Pickett, 31, has been dancing since she was 3 years old and said she can't remember a time when she wasn't involved with it.
"My mom was a dancer too, so that's how I got involved in it," she said.
She attended Kansas University on a dance scholarship, but the program didn't go the way she thought it would, which made her start thinking about pursuing a path of study other than dance. However, she she still teaches classes at the Lawrence Arts Center.
"A lot of strange circumstances came into place and I ended up getting my teaching degree," Pickett said. "But I've always kept dance as a part of my life."
She also has choreographed high school musicals and works with the drill team.
Pickett, who hadn't performed in a large-scale production in three years , because of the birth of her daughter, will play the Snow Queen. She did not plan on taking part in the production, but the main dance company at the Lawrence Arts Center had some dancers move, so she auditioned.
"It was good timing for me to want to be in a big production because they needed to fill the gap," she said.
The ballet is based on a Hans Christian Andersen fairy tale about a little girl's journey to rescue her friend after she is taken by the snow queen. The part is different than most ballets in that there is dialogue in it.
"A true ballet, which I don't think most people understand, has no speaking," Pickett said. "But this is actually a play slash ballet, so I think that it's a little more palatable for the general public because people are more comfortable with speaking involved. I think that it works particularly well with this production."
The "Snow Queen" will run at 7:30 p.m. Friday and Saturday and at 2 p.m. Sunday at the Lawrence Arts Center, 940 New Hampshire St., in Lawrence.
Subsequent performances will be at the same times the weekend of Dec. 14, 15 and 16.
Tickets cost from $12 to $17.
For more information, call the Lawrence Arts Center at 843-2787.