Icy snow makes driving hazardous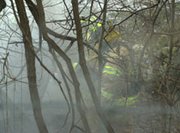 Eudora fire and emergency medical units responded Thursday morning to an accident at the 1400 Road onramp to Kansas Highway 10. An SUV skidded from the highway and down the ramp before coming to a rest in a ravine and catching fire.
There is no further information on the accident at this time.
Police and emergency units throughout the area were busy responding to multiple accidents Thursday morning as the storm left a layer of icy snow on streets and highways.
Law enforcement agencies are warning drivers to be cautious in Lawrence and Douglas County today as the snow has started to fall.
"(People) really need to take extra time going from home to work," said Lt. Kari Wempe, a Douglas County Sheriff's spokeswoman. "Slow down. Make sure your tires are in good shape, and allow for windows to be cleared completely. Allow plenty of space in between cars."
Wempe said the weather did not appear to be a factor in a non-injury wreck just northwest of Lawrence at 6 a.m., but drivers should still be cautious today, she said.
It was snowing heavily in Lawrence for a few minutes, but 6News meteorologist Matt Elwell said the heavier precipitation would likely let up soon.
It should fall for about two more hours, Elwell predicted, with 1 to 2 inches of accumulation possible and even 3 inches in areas north of Lawrence.
Elwell said the roads would be extremely slick today because of the damp snow falling on roads that are already cold. It could make ice a possibility, he said.