Vision group identifies future needs
The city of Eudora needs are an economic development director, improved water quality and a traffic plan, a citizen's visioning group suggested last week.
Those needs and 12 others were identified Nov. 28 when the city of Eudora invited residents to take part in a focus group to plan for the next 20 to 30 years of Eudora. The meeting gathered what is called "The 20-30 Vision Group," which consisted of 20 residents from varying backgrounds who were chosen based on suggestions made by city officials but also based on how vocal they have been about past community issues.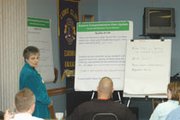 The city invited 30 people, but only 18 of the 20 who showed up were on the list of the city's invitees. The meeting was open to the public, but just two people who were not on the invite list attended.
"We tried to invite a good cross-section of the community -- we had business people, we had teachers, we had professionals -- and that was exciting," City Administrator Cheryl Beatty said. "These were people who were very interested in finding a solution to the problems of Eudora."
She also said the city of Eudora wanted to get input from more than just the five members on the city council.
The meeting took place in response to issues created by the population growth in Eudora.
Beatty began by addressing the participants and telling them to "think big" and let the city council worry about how to pay for any projects that were suggested.
Scott Michie and Julie Hurley, who are representatives from the engineering and planning firm Booker, Willis and Ratliff, also helped lead the meeting.
Quality of life; land use and infrastructure; and economic development were the three main subject areas. Residents paired up and talked about changes they would like to see, and then each pair told the group as a whole what they talked about.
The group then was split into three subcommittees based upon which of the three aforementioned areas they cared most about. Each subcommittee then voted on the top five issues they would like to see resolved and a spokesperson from each subcommittee addressed the group and told what their subcommittee's top 5 issues were.
"By the end of the night, we had some really good ideas on the board," Beatty said. "They identified some really good things that we need to start working on."
The quality of life subcommittee identified:
Developing a sense of community
Water quality
Creating the ability for the police and fire departments and EMS to respond to the population growth
Citywide wireless service
Housing the police and fire departments and EMS in one building
The Economic development subcommittee identified:
Attracting new businesses, while supporting local businesses
Developing a traffic plan
Need for growth in downtown Eudora
Need for an economic development director
Resolution to the lawsuit with Rural Water District No. 4
The land use and infrastructure subcommittee identified:
Water quality
Traffic flow
Street improvements
More jogging trails and sidewalks
A resolution to safety issues that may arise when the new elementary school is built
Hurley and Michie took all 15 of those issues and will formulate a report that will be presented at the next meeting, which will occur in January.
"After the first focus session, the excitement and energy just builds and more people from the community begin to get involved," Julie Hurley said. "It's a generally positive experience."
After that, subcommittee meetings will be regularly scheduled and subcommittee leaders will be chosen.
"They'll (subcommittees) look at where we've been, where we are now and how the ideas for the future will come together," Beatty said. "Then, they'll finalize their goals and put together some sort of timeframe for when they want to see their goals accomplished."
Subcommittees will develop reports that go further in depth as well as a town mission statement, and then at least two full-town meetings will take place.
A final report will be written and given to the city council, who will create a capital plan that will try to figure out how projects will be financed.
Caren Rowland, a real estate broker who has lived in Eudora for 25 years, was one of the attendees at the meeting. She had an optimistic outlook on what the results of the meetings could be.
"Because of what I've seen the city do so far, I have great hope that they will listen to what everyone wants and work towards that," Rowland said.
Ruth Hughs, a teaching mentor for the school district and resident of Eudora for 35 years who also was at the meeting, said it lived up to her expectations.
"I anticipated that we would be thinking forward and making suggestions to the council as a committee of citizens that live in Eudora who were thinking what we'd like to have Eudora look like in 20 to 30 years," Hughs said. "And that's exactly what I found when I arrived at the meeting."
Beatty hopes the process will take about six to nine months and said she left the meeting feeling excited.
"You could tell that these people were very interested in seeing that the town had a way of moving forward, and any negativity was followed up quickly with 'this is what we need to do to change this,'" Beatty said. "That's really what I'm looking for."
More like this story