Icy snow makes driving hazardous
Eudora fire and emergency medical units responded Thursday morning to an accident at the 1400 Road onramp to Kansas Highway 10. An SUV skidded from the highway and down the ramp before coming to a rest in a ravine and catching fire.
The driver was checked by Lawrence Douglas County Fire and Medical and was found to have only minor injuries and was not transported.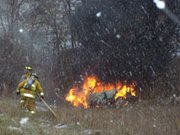 The fire was extinguished by the Eudora Township Fire Department and the city of Eudora Fire Department. During the incident, a bystander directed responders to another roll over accident a half a mile away. There were no injuries in the second accident.
Police and emergency units throughout the area were busy responding to multiple accidents Thursday morning as the storm left a layer of icy snow on streets and highways.
"(People) really need to take extra time going from home to work," said Lt. Kari Wempe, a Douglas County Sheriff's spokeswoman. "Slow down. Make sure your tires are in good shape, and allow for windows to be cleared completely. Allow plenty of space in between cars."