Out at home
Cardinals solid all weekend, but barely denied tournament champion
Senior Evan Meyers stood on the medal stand Saturday looking every bit as sullen as the fifth-place finisher. His disappointment stemmed from dropping the championship match of Eudora's 30th annual Tournament of Champions wrestling tournament, which took place Friday and Saturday at Eudora High School.
Eudora coach Bill DeWitt, though, stood looking on, proud of his senior's second-place finisher in a tournament that hosted 24 teams.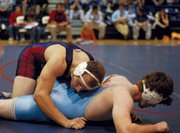 Although as a team Eudora may have been looking to place a little higher -- it finished in 13th place with 123.5 points -- DeWitt said he was not in the least disappointed.
"Sometimes as a coach you get frustrated," DeWitt said. "But I'm never disappointed. There are lots of kids walking around this school who don't do anything, and these kids come out and work hard and compete."
Eudora saw four of its wrestlers, all seniors, reach the medal round, with three of them receiving medals.
Travis Clarke, wrestling at 140 pounds, had a rough go of it Saturday when in successive matches he received a gash above his left eye and then broke his nose. In his first match of the medal round, against Perry-Lecompton's Dennis Martins, Clarke had Martins down when he caught an elbow, resulting in the 2-inch gash. Clarke went on to win 7-2.
In his next match, against Russell Naylor of Spring Hill, Clarke got a takedown and Naylor bucked his head, breaking Clarke's nose.
"He jumped right back in there," DeWitt said. "I don't know if he could see or breath but he wanted to finish the match."
Clarke wound up dropping the match 6-3. Another close loss, a 9-7 setback to Kenny Flanders of Free State, set up a rematch between Martins and Clarke.
This time in a facemask, Clarke led the whole way and beat Martins easily, this time 5-1 giving him a fifth-place finish.
"There was a lot of pressure on Travis," DeWitt said. "I can understand where the pressure came from, though. There were a lot of people there to watch him and high expectations. He just needs to relax."
In the 160-pound division, Jake Love recovered nicely from a quarter-finals defeat to earn fourth place. After losing to Clint Holland of Prairie View he won by default over Brian Cain of Lawrence High. That set up a rematch with Holland in which he wrestled a tough match, wrestling until the final buzzer and coming up two points shy of a third place finish. He dropped the first match between the two 4-9 and the second 2-4, so his effort in the second match was by no means lacking.
Chase Rust, in his first year as a member of the varsity wrestling squad, wrestled well enough to make it past the pool round into the medal round, but lost three matches to finish eighth.
Which brings us to Meyers, a senior, returning state qualifier and a wrestler on DeWitt's squad who, along with Clarke and Love, is counted on to deliver points for the team and be competitive in every match.
Friday and Saturday Meyers did just that. He made it through pool play unscathed and unbeaten. Two matches into the medal round Meyers found himself in the finals after two close victories of 8-6 and 5-2.
Now he had a chance to make history. In the five years since the Tournament of Champions expanded to include 24 to 25 teams, Eudora has not had a wrestler win the gold medal.
Meyers was matched up in the championship against Jerry Cox of Kansas City's Sumner Academy, a wrestler who Meyers split with in two matches last year.
In this one, however, it was all Cox, who scored 2 points on a takedown with 10 seconds left in the first period and never looked back. The final buzzer sounded with the scoreboard reading 9-3, although Meyers did fend off being pinned on a couple of occasions.
"I expected him to be in the finals and I expected him to win it, and I think he expected to too," DeWitt said. "He had some great shots but just didn't do a great job of finishing, so that's half the puzzle."
DeWitt said he was encouraged not only because his team wrestled better than they did a week ago at the Tilton-Worley Tournament but also because of the attitude his kids exuded Monday in practice.
"We're better than a week ago, and that's what you want," he said. "Monday, spirits were up and we worked on a couple of things we saw on film."
Next up for the Cardinals is another tournament, a trip to the Emporia Winter Classic, which starts at 8 a.m. Saturday.
"It's primarily 5A and 6A schools that I like going to. It's extremely competitive," DeWitt said. "It's fun. You see great competition against kids who won't have any effect on you at regionals and state."
This is the fifth year the Cardinals will be invited to the tournament. They finished dead last five years ago but have since improved, finishing second behind Class 6A power Goddard last year.
"I don't know if bigger schools like us coming in there and stealing their thunder," DeWitt said, "but this year we won't be able to sneak up on anyone."