Back. Big time
Haley Epperson was crushed when injury forced her to miss the volleyball state championship, but she's recovered on the court
Eudora High School sophomore Haley Epperson works hard. She does well in school and she plays in the starting lineup for the varsity basketball team.
She averages roughly 14 points per game and has had 23 steals this season, and at times, she's simply made it all look easy.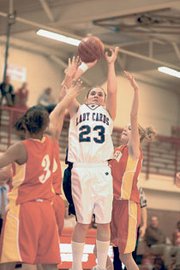 Easy -- maybe that's the most impressive part.
A devastating volleyball injury sidelined her for the team's first state championship, and it threatened to slow her basketball season.
Epperson played varsity volleyball during the state-winning 2006 season. However, before she finished the winning season with her team, she overstretched her extensor carpi ulnaris -- the muscle that extends from the pinky finger to the elbow -- during a game.
That was the end of the volleyball season for Epperson, but not the end for the team.
"It was hard to watch the team," Epperson said. "I would get really upset. But Coach (Jill) Stutler told me it's not all over. I still had a role -- it was just different than what I had been doing.
"It was hard."
Epperson watched from the bench as the team caught fire late in the season. She watched as the team swept through the sub-state tournament and celebrated at mid-court, and she watched as the Cardinals powered their way to the Class 4A crown. She watched the whole team with a bulky and uncomfortable cast confining her arm.
But she wasn't going to let that injury disallow her to play basketball. Epperson said although it was not easy, she spent a lot of time rehabilitating her arm in preparation for the basketball season. She may have missed the end of volleyball season, but she was determined not to miss any of the basketball season.
So far, so good. She's been a leader and the team's most dominant player through the first half of the season, and hasn't shown much weakness at all from the injured arm.
Again -- she said it's looked easier than it's been.
"I felt like I had to prove to myself that I could play," Epperson said. "That was the thing I was worried about -- that I wouldn't help out my team because I was injured."
And her arm -- Epperson said it still causes her pain on the basketball court. She struggled through, however, refusing to allow it to slow her on the court.
"It still gives me some problems, and it will occasionally pop," Epperson said. "As of now, I just have to deal with it. During the spring, I'll still work out, but won't be in after school practices, which will give my arm a break.
"I'd much rather play and deal with it now than after the season."
Eudora coach Ryan Luke couldn't be happier she's decided to fight through the pain.
Epperson is not the tallest girl on the basketball team -- she stands at 5-foot-9 -- but is able to maneuver around the net well and causes her opponents some trouble with her stealing and rebounding abilities. Epperson has 66 rebounds this season.
Yes, Epperson hustles on the court, but she said that was not her only role on the basketball team.
"My biggest role on the team is leadership and just taking control of things when they need to happen," Epperson said.
It's the leadership that Luke said was Epperson's best traits. It's what makes her irreplaceable.
"We rely on a lot of leadership from her, which is hard as a sophomore," Luke said. "She's valuable -- her role is serving and rebounding. When she doesn't do that for us, we struggle."
Epperson, who has played basketball competitively for five years and volleyball for three, said she did not prefer one sport to the other. She said she just took each season as it came and tried to enjoy every minute of them.
It's her love of sports that makes Epperson continue playing basketball and volleyball. But it also helped, Epperson said, she was on the volleyball and basketball court with her best friends, like Rachel Pyle. Epperson said she and Pyle have played basketball with each other and have been best friends for years.
So, she's had an uphill battle, but Epperson said she was just happy to be playing basketball. She said her hard work and rehabilitation really weren't that hard of work for her -- Epperson said she just wanted to keep doing what she loved, playing sports.
"I'm actually really glad to be back," she said. "I was worried at first, and I expected the worst out of everything, but it's gone well."