Boys make up ground in make-up game
It was one of those games that showed exactly how competitive the Eudora boys basketball team actually is.
The Cardinals beat Spring Hill Saturday 58-46, winning a game rescheduled because of bad weather two weeks earlier.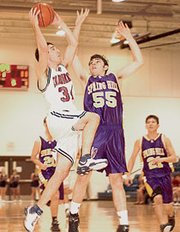 Coach Kyle Deterding said the team played a very balanced game, one that was much improved compared to the past two games against Atchison and Sumner Academy.
"We made them work for shots," Deterding said. "Defensively, we were better and offensively we did a decent job of getting shots."
Matthew Abel made the first points of the game in the form of two successful free throws. Kelson Boyer continued the energy by sinking one basket, then Kent Swanon added an unguarded 3-pointer. After a series of traded shots, the Cards ended the first quarter ahead three points.
Swanson did it again with another 3-point shot, furthering the gap. But Spring Hill fought back, and concluded the half just two behind the Cardinals.
Boyer put some space between the two teams again with a quick layup in the third quarter. Overall, Boyer finished with a game-high 14 points.
Deterding said it was not just Boyer's posting that made him a valuable player, but also his rebounding skills, which was evident in the make-up game.
"He had a pretty solid game," Deterding said. "(Spring Hill) has the best post man in the league. Our big guys battled them real well. Kelson especially rebounded him a lot."
The Eudora defense played stronger in the second half, giving up 19 points.
Deterding said although the Cardinals gave up a couple of easy points, Spring Hill was forced to work for its shots. Deterding said this was because of better communication on his team's part.
The fourth quarter saw much of the same strong Cardinal play that was present in the other three quarters. Two minutes in, Eudora went on an eight-point run - the best the whole game - and assured the team its first victory in three games.
One recurring concern of Deterding's is the team's inability at timesto play with a consistent energy level throughout the whole game. He said that was not a problem in the Spring Hill game, as each quarter saw well-balanced play.
"We sustained a little longer," Deterding said. "We had some mental lapses, but we did much better. Our energy was pretty good. Our 10 or 11 guys who played battled them pretty well."
After the Spring Hill victory, the Cards had some time off, which Deterding said the team earned after finishing out a busy couple of weeks.
"We've been hitting it pretty hard," Deterding said. "We've just been busy, busy, busy - our bodies need to recover a bit and get ready for Baldwin."
The Cardinals are scheduled to host Baldwin at 8 p.m. Friday.
More like this story