Students test intellect in scholars' bowl
Justin Male's hand hovered over the buzzer.
His team missed the last question. The group needed to translate a Spanish phrase scrawled across a white board. Their final answer included the operative word "need." It was actually "necessary."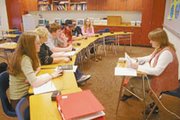 Eudora High School math teacher Bonnie Daigh next read a math question. Justin and his teammates hunched over their desks furiously scribbling down the formula.
It's 4 p.m. Monday, and the students' scholars' bowl practice session is almost over.
"We're kind of crazy at the meets. We joke around," Justin said. "It doesn't matter if you win or lose, it's if you have fun."
Justin, a senior, has been part of the scholars' bowl team for the last three years.
Last year his sister, JoAnna, joined him.
"My brother badgered me to try out for it. I actually found some stuff I started to like," she said. "It's fun all around."
The Male siblings and 19 other students have gathered in Daigh's room since October to test their knowledge in subjects, stretching from social studies to foreign language, to calculus and literature.
During practices, teammates line their desks in a line and connect a buzzer system. Should they know an answer, they tap a button and it buzzes over to Daigh.
"I think this helps them solidify and keep information they've learned fresh in their mind," Daigh said.
The team's practices, which resemble a laidback TV trivia game show, prepare them for tournaments across the area. Eudora High School fields both varsity and junior varsity scholars' bowl teams.
"When you're at a really tough meet it irritates you to go up against a tough team," JoAnna said.
For the most part, scholars' bowl team members described the tournaments as competitive if somewhat silly.
For instance, the team ran up against a player who wore large green ears to the match. In another instance, the team ran into a different player who always claimed it was his birthday.
In addition to the silliness inspired by the scholars' bowl, the team also faces tough competition. The tournaments can run with as few as three teams. The Eudora team has also taken part in much larger meets with more than 12 teams.
Close matches can get particularly exasperating, JoAnna said.
"When you lose by less than five points, which is half of a question, you're crestfallen," she said.
The match could consist of anywhere from five to 15 rounds with 16 questions per round. Depending on the tournament, either the host school writes the questions or they buy questions from companies that specialize in trivia.
If a team from the host school writes the questions, the rounds could be problematic,
"They ask very specific questions," JoAnna said.
The practice Monday consisted of one long round. The students received a full range of questions.
Because the breadth of the trivia is so wide, team members tend to specialize. Justin specializes in social sciences, for instance. Junior Dustin True knows sports. Sophomore Courtney Johnson offers her knowledge in language arts.
Even with the specialization, the team recycles running jokes for certain types of questions. If it's a poetry question, for instance, the stock answer is 'Robert Frost.'
When asked what the best part of the program is, the team's answers differed.
Freshman Mallory Waln said she liked meeting new people at the tournaments.
Justin gained a wave of agreement from his teammates when he mentioned the food served at the meets.
To Daigh, the group's sponsor, the overall benefit to the students could go even further.
"The other thing I see happening with students is it gives them confidence," Daigh said. "They see they do have knowledge."