Battle of Lenexa
Eudora National Guard captain trains tank crew on simulated battlefield
The platoon's objective was simple. Encased in M-1 Abrams armored tanks, the group had to liberate a base in enemy territory and hold it. From the beginning, the soldiers knew they would have to fight. More than that, they knew they would have to watch out for civilians in the battle zone.
Rolling through green hills, everything was going according to plan. As the tanks approached the end of their own territory, the thud of enemy fire broke out.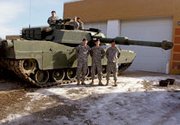 It was all happening just as Capt. Trent Miller envisioned.
"This is our February drill. We're doing a mobile simulation," he said Saturday.
Miller, a Eudora resident, commands Charlie Company in the 1st Battalion of the Kansas Army National Guard's 635th Armored Division.
He helped create the scenario being played out in the mobile Close Combat Tactical Trainer at the National Guard Armory in Lenexa.
"It's just like a big video game," Miller said. "It trains us without operating the tank."
Miller's company meets monthly to refresh its skills as preparation for being called to active duty.
His company was last deployed to Kosovo in 2004 and returned in January 2006.
"Basically, it was a peace enforcement mission," Miller said.
After returning, the National Guard unit went back to normal life. Regular duty for the company now consists of once-a-month weekend training and two weeks of sustained training per year.
"Not only do we do a lot of hands-on training, we do a lot of classroom training," he said.
All soldiers handling the vehicles need to be certified each year, Miller said.
At Saturday's training, soldiers spilt time between the simulators, which consisted of several trailers, and a standard medical check up.
Former Army personnel travel with the simulator as technicians and training facilitators. They travel to bases across the country to train soldiers in tank combat in scenarios that could range from war games on home soil to urban combat in downtown Baghdad. The battle terrain is computer simulated, but inside the trailer soldiers sit in an exact mockup of the battle tank's interior.
Miller works full time as the company's commander. Each day, he travels from Eudora to the division headquarters in Manhattan.
He joined the military after an inspirational visit to the American Legion Boys State during high school, where he met a group of veterans who changed his life.
"I think it was just seeing those older gentlemen and seeing the pride they had in serving their country," Miller said. "It made a huge impression on me."
To help promote the National Guard, Miller said he introduced a number of Eudora High School students to the simulator Friday by providing a field trip to the Lenexa facility to tour the M-1 Abrams tank and let the students participate in simulations of its maneuverability and weapon systems operations.
Miller's reason for joining the service is similar to those in his company.
Sergeant Steven McCord, Shawnee, joined the National Guard in order to serve, he said.
"I felt like I needed to give something back," he said.
The Guard has also given him a chance to meet people he wouldn't otherwise meet, he said.
After finishing Saturday's simulated mission, the soldiers filed out from the tank simulator and gathered in a red-lit room in a different trailer. There, they learned piece by piece what went right with the training and what went wrong.
After the briefing, the soldiers went back to the simulator.
Lt. David Sherman, Overland Park, said he enjoyed the fact the simulator allowed him to train in areas that wouldn't be possible in reality.
"Besides, it's a lot of fun," he said.