Girls look to reignite season
The Eudora girls basketball team lost to the Louisburg Wildcats 49-39 Monday night in game where it showed momentary signs of greatness, but all too often played flat.
Coach Ryan Luke said inconsistency has plagued the Cardinals (9-10) all season long, and the Louisburg game was no different.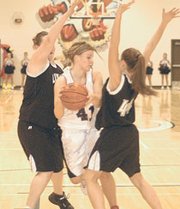 "We show signs of improvement with our energy level," Luke said. "We just aren't consistent game by game and aren't aggressive enough offensively."
The up-and-down stretch saw a major up Friday as the Cardinals blew past Osawatomie, 68-29, but as Monday's game got under way it was evident it was time for a down. The Cardinals started the game off on the right foot -- Elaina Kouri scoring the first basket of the game and Emily Ballock connecting with Allison Braden for another easy early score -- but the Cards then gave up seven consecutive points.
Louisburg took a 7-4 lead and never could regain control.
That's where the offensive miscues came into play. The Cardinals throughout the game struggled to make shots both near and far -- a detriment made even worse by the fact that it had all worked so well Friday when Eudora rolled up nearly 70 points.
Luke said shooting the ball remains the primary problem the Cardinals face.
"The reason we had trouble catching up is we missed lots of shots at the beginning of the game," Luke said. "When you miss a lot of shots, it just makes things more difficult later on for you."
The Cardinals hung close through the second quarter and trailed 22-16 at halftime, but the gap widened in the third quarter and a fourth quarter rally proved too little, too late.
Eudora trailed 37-29 after the third quarter, but managed to come within five points in the fourth. The Cardinals couldn't find an answer for Louisburg's 5-foot-11 Katelynn O'Hara, who consistently beat her competition for rebounds. O'Hara finished with 15 points to lead all scorers.
Being the tallest girl on the court is usually an honor reserved for Braden, who also is 5-11. Braden said she was shaken a little by O'Hara's game-changing effort.
"I was a little hesitant because I was used to being the tallest one on the court," Braden said. "She shut me down for a little bit and it was really hard to get around her. I just tried to step it up."
Braden, who was honored in the night's senior acknowledgment festivities, said she and the team realized they needed to increase their level of play if they wanted to do well in next week's sub-state tournament.
"We're definitely going to have to step it up," Braden said. "Losing tonight means we'll probably be an eight-seed and play a really hard team like Baldwin in sub-state."
Luke said the only thing Eudora could do was to focus on the future and bring its best game to the sub-state tournament.
"When you have a tough loss, you just have to keep working on things," Luke said. "Hopefully, we'll get a good seed in the tournament, and hopefully start making things happen for us there."
Eudora will play its final home game at 8 p.m. Friday, a time change from the normal six-game format, against Wellsville. The sub-state tournament is set to begin Monday. The Cardinals will travel Tuesday to play Bishop Ward in the first round. If they advance, the remaining two rounds of the eight-team tournament will be in Tonganoxie.