Learning the rurals
Rural mentorship program lets medical students see another side of medicine
Tim Kim, like the University of Kansas Medical Center medical students who came before him, has learned from many teachers at Eudora Family Practice.
Primarily, Dr. Daniel Dickerson mentors him as part of the Kansas Rural Preceptor Program, but Kim's true instruction comes from a larger faculty.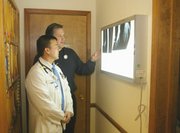 "While I'm the preceptor, the patients are the real teachers," Dickerson said.
That's exactly how Dickerson likes to see it happen.
Each year, Dickerson mentors from eight to 10 medical students in their final year of medical school to show them the ins and outs of rural medicine.
It's part of a series of stops the students make before graduation. The stint in rural practice is in conjunction with work in more urban settings.
The program normally lasts about a month. Kim will finish his time at the clinic Saturday.
"This is a time of transition for them going from a student to an internship next year," Dickerson said.
So far, Kim has adapted to the change.
"I was kind of impressed, I guess, with the variety of patients in Eudora. Specifically, you get people from every part of the spectrum," Kim said.
Kim noticed a different kind of philosophy behind the care rural practitioners give. Patients come to him for almost any illness, whereas in more urban settings the patients might go straight to a specialist, Kim said.
Patients sometimes come in just to talk out their issues, he said.
Kim's overall experience varies from week to week. On Tuesdays, Kim and Dickerson see patients at Eudora Nursing Center. In the mornings, Dickerson and Kim see general patients.
At the office, Kim has the opportunity to take and analyze X-rays, diagnose general ailments and perform minor surgery, Dickerson said.
The time in Eudora allows students to take what training they have mastered and start making use of it in the real world, Dickerson said.
Throughout the program's course, Dickerson emphasizes patient contact and critical thinking within the students.
The freedom has proved to be a valuable part of the experience, Kim said.
"I think what I like most is the way Dr. Dickerson lets me make decisions on my own and bounce them off him," Kim said.
It helps get to the core of the class, he said.
"The point of this is to help develop your decision-making ability in a clinical setting," Kim said.
Learning in a rural environment has given Kim the opportunity to make plenty of clinical decisions, he said.
Dickerson also emphasizes the fact not all diagnoses or illnesses come straight from a textbook. Sometimes young physicians need to really talk to patients to get to the core of the problem, he said.
"That's kind of the art of medicine," Dickerson said. "Knowing what is important and what isn't important and listening to the patients."
In 2006, Dickerson won a Rainbow Award from the university for exemplifying professionalism in medicine and passing on those qualities to the students he mentored. A former student nominated him for the award.
After graduation, Kim plans to serve as a physician in the U.S. Navy.