Cardinals can't follow up on first-round success
After an excellent start at the Tonganoxie tournament against Atchison and three consecutive wins before that, things started to slow down for the Eudora girls basketball team.
The Cardinals lost a mostly uneventful game to Lansing 38-26 in the second round of the tournament Friday. From there, Eudora was unable to really get in a groove against Silver Lake Saturday, which resulted in a 58-51 loss.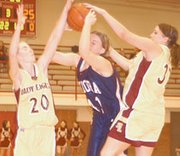 The Silver Lake game can really be looked at as two individual games, one played by the Eudora team that is unsure of its potential and the other by the team that Eudora has developed into as of late -- full of fire, confidence and aggression. Unfortunately, the first Eudora team won out.
In the first quarter, Silver Lake quickly posted five points before Emily Ballock was able to reply with a two-point shot from the front of the net. And then, things turned sour. Silver Lake went to the net again and again, going on a 16-point streak. Eudora only replied with six points, ending the first quarter 21-8.
The second quarter saw more Eudora points, but it also saw another 21 from Silver Lake. Eudora was trailing by a little less than half at the close of the second quarter.
Coach Ryan Luke said the poor first half was the result of a lack of team focus and energy.
"We just weren't really focused and ready to play the game," Luke said. "We just expected to come out and play well, but we didn't really."
After the 10-minute halftime break, the second Eudora team entered the court ready to play and win. This time, the Cardinals only gave up five points because of a strong defensive game. Ballock again made her presence felt after two steals in the third quarter, which translated to Cardinal points.
Luke said Ballock came into her own during the tournament, really flexing her muscles and showing her potential.
"She had 20 points, five rebounds, was six-for-six in free throws and had eight steals," Luke said. "She's leading the whole tournament in steals. She just exhibits efforts. She's a stud."
Then the Cardinals really turned up the heat. After racking up a 20-point deficit in the first half, the Cardinals turned things around and only trailed by three points. However, Silver Lake utilized free throw opportunities effectively, disallowing a Cardinal victory.
The last time the Cardinals squared off against Silver Lake was in December where they saw a 48-40 victory. However, Luke said the team has gotten better since Eudora last faced off against it.
"They've improved and they're a good team," Luke said. "If you don't take care of things like rebounds and contested shots, then they will take advantage of that. We didn't give a very good effort in the first half."
Eudora finished fourth overall in the tournament. Luke said although a fourth-place finish is nothing to be ashamed of, the Cardinals learned a big and valuable lesson.
"Coming into the tournament, we were playing really well," Luke said. "It was good for us because it shows even when you're doing well, you can't relax and lose focus."
Eudora is not scheduled to play again until 8 p.m. Feb. 1 against Baldwin at Eudora High School.