The Eudora boys basketball team has found itself smack in the middle of a very busy week, one filled with both impressive victories and close losses.
After beating Pleasant Ridge 62-49 in the first round of the Tonganoxie Invitational tournament and Tonganoxie 67-58 in the second, Eudora entered the finals against Atchison. The Cardinals came out with a second-place finish, losing the final game 51-42.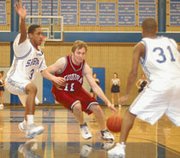 Coach Kyle Deterding said Atchison possessed a very aggressive mindset, one complimented by a lot of speed and skill.
"Atchison is a good team," Deterding said. "We had one bad quarter. The second half went well, and we gave ourselves a shot. We got after it."
Three days after the Tonganoxie tournament, Eudora traveled to play Kansas City-Sumner Academy. Ultimately, the Cardinals lost 73-63, but not after they put up a hard fight.
Quickly following the start of the game, Mike Ortega rebounded a Sabre shot and took it back for the first two points. Not even 15 seconds later, Matthew Abel slapped the ball away from a Sumner shooter, regaining possession for Eudora. Kelson Boyer capitalized on Abel's opportunity and took the ball back to the net for another two points.
The Cardinals ended the first quarter tied at 15. Eudora slacked off a little in the second quarter, giving Sumner a 10-point streak, but never trailed any more than seven points.
But the story was completely different in the second half. Deterding said the Sumner game almost perfectly mirrored the Atchison game.
"We competed pretty well in the first half," Deterding said. "In the second half, we were very bad. We didn't guard and they shot a lot of layups. We just didn't bring intensity."
The Sabres also brought a lot of speed, which resulted in them further breaking away from the Cardinals, ending the third quarter 51-37.
"They're a pretty good team," Deterding said. "But we really made them look really good in the second half. It's hard to tell how tough they were because of how bad we were for seven to eight minutes."
Finally, Eudora got back on board, racking up 26 points quickly. The fourth quarter also saw three of Brian White's four 3-pointers. However, it was too little too late.
In all, though, Deterding said the Cardinals just needed to learn to play a full and focused game.
He said although he was happy Eudora got second place at the Tonganoxie tournament, maintained focus could have pulled out a victory in that and the Sumner Academy game.
"We'll take second place," Deterding said. "We should have played better in the second half. Atchison is like Sumner -- they were really quick. They are probably the two quickest teams we'll play all year. We just have to get better at the things we do."