Windy field turns into energy alternative for local man
There came a point when Peter Bock had enough of the wind.
At the time, he had been living at his home off Douglas County Road 1200 for three years and the buffeting reached his breaking point.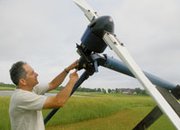 "This was kind of a wide open field here and there were no trees," Bock said. "The wind was blowing and blowing."
But instead of moving on, Bock took a cue from his eco-friendly brothers in California who harnessed solar energy.
"I felt complaining about the wind was no good, so I tried to come up with how the wind could be useful."
Bock decided to make his own leap into renewable energy.
He bought a windmill to supplement his family's power needs.
The decision came in 1999 at a time when stories about peak oil drifted into the media and before the controversy on global warming really picked up, Bock said.
He searched catalogs and found a model that worked best for him.
Now the machine overlooks a small pond and its constantly turning blades help light up Bock's home.
"Sometimes we may not have power in the neighborhood, but we may not know it because we have a backup system going," Bock said.
The 40-foot tall windmill faced an uncertain future last month when an axle broke, Bock said.
The replacement was quite a task because the manufacturing company no longer produced that particular part so he had to have the piece custom made.
The windmill was turning again June 26.
It runs as a 48-volt DC system. The energy it generates is sent to a set of backup batteries. The batteries, in turn, channel the energy to an inverter. The inverter changes the electricity to 110 AC volts before distributing it throughout Bock's house.
He keeps tabs on the windmill by studying different meters located in different parts of his house. He pays special attention to the system on windier days. If a breeze blows too hard, he turns the windmill off to prevent damage.
Southwest Wind Power Inc. crafted the windmill for use throughout the world, Bock said.
"Overall, I'd say the windmill generates about a third of our electrical needs."
There are times when it generates more than enough electricity.
When that happens, Bock experiences what he said he sees as a shortcoming within the state.
"I'm not allowed to sell back to the grid," Bock said.
Other states allow residents to make money off the extra power they generate.
Some day Bock said he hopes the Kansas Legislature enacts a similar plan.
"There's no intention to do that," Bock said.
In the meantime, Bock and his family continue to keep green in everyday life. The family uses electricity as sparing as possible, he said. For instance, if lights aren't needed, they're off.
Bock even finds ways to conserve natural resources in his automobile. He fuels his car with regular diesel gasoline and supplements it with a solution of vegetable oil.
Bock also enjoys the fringe benefits provided by the rotating windmill.
There's the fact his family lives on a road called Windmill Drive, even before he installed the machine.
There's also the fact it's a conversation piece, he said.
"If nothing else, if it starts a little interest in renewable energy or conservation among people, then I'd be pleased," Bock said.