Welcoming start
District greets new teaching staff during orientation
Judging from an icebreaker game Monday morning, the district's newest crop of teachers are a diverse crowd, mentor teacher Ruth Hughs said.
In the game, the new instructors were asked to give interesting facts about themselves.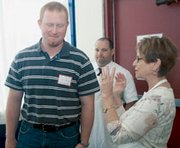 Hughs heard stories from missionaries, new graduates and a teacher who once served food to John F. Kennedy Jr. in Hays.
"They just all have a variety of life experiences," Hughs said.
More than 20 new teachers joined the district in their first orientation session. The district chose the new teachers from a pool of 1,500 applicants, Hughs said.
First-grade teacher Becky Topil had taught for 25 years in Nebraska before coming to Eudora. Her husband took a job in Topeka and she wanted to remain in a small town, she said.
"I'm excited to meet the new families," Topil said.
She's bringing three students into the district, her daughter Michelle will be a sophomore at Eudora High School, Danelle will be a seventh-grader at Eudora Middle School and her son Broderick will be a fifth-grader at Eudora West Elementary School.
Topil said she noticed similarities between the Eudora school district and her former district in David City, Neb.
The district's training has helped her transition, she said.
Sitting next to her, was first-year teacher Bobbi Hamman. Hamman will also teach first-grade.
Hamman graduated from Washburn University. The concept of teaching in a smaller school district appealed to her, she said.
"It's a smaller town and the district is great."
Hamman said the smaller class sizes would give her more opportunities to explore new ways of teaching.
Fourth-grade teacher Shannon Hayden is also preparing for his first year as a teacher. He recently graduated from Kansas University.
"I was a little nervous at first but everyone has been really nice," Hayden said. "It's been fun so far. I've learned a lot of things so far."
Hayden said he chose the district because of its location and the opportunities available within it.
"I'm probably most excited about having my own classroom for the first time," Hayden said.
Second-grade teacher Rachelle Palmer comes to the district after graduating from Kansas State University.
"I'm looking forward to teaching in Eudora," Palmer said.
The district also added more staff to teach technical courses.
First-year teacher Jace Stewart is following in his father's footsteps. His father teaches a technical education course at Fort Hays State University. Stewart graduated from the same school. He'll teach students computer-aided design at Eudora High School.
Specializing is fun because he can teach students something they might want to do in the future, Stewart said.
Eudora High School biology teacher Geoff Day chose the district for the next step in his career. He came from Salina.
He knows his teaching style.
"I'm tough. I'm pretty rigorous," he said.
He said he chose the district because of the smaller class sizes.
"It's a very well-structured learning environment," he said.
In past years, the teacher orientation session happened in August, but district officials decided to bump it up to June this year so the new teachers have more time to study the curriculum materials, Hughs said.
The day also gave teachers the chance to see the district first-hand.
Teachers received their curriculum notes and their teacher editions as well as a run-down on their benefits with the district.
The group ate a meal prepared by building administrators during the lunch break.
"We're so excited," Hughs said.
More like this story