For their second-annual 50/50 Dice Run Sunday, organizers Matt Montgomery and Tina Lencioni will try something different ---- they plan to ride in it.
Last year, Montgomery, co-owner of DC Custom Crafted Cycles with Lencioni, was working on his shop's first customized bike ---- the DC Custom Crafted Cycles 2006 Gargoyle Series 1 Chopper.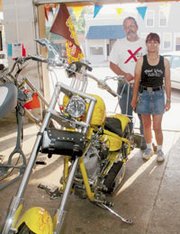 That meant he and Lencioni did the legwork to organize the ride and see the bikers off from their downtown starting point, but had no bike of their own to join in.
This year, the duo has no such problem.
The fact they plan to be astride bright yellow gargoyle is new, but the charitable spirit is the same.
The group will be "Riding for the Wish of a Child" for Make-A-Wish Foundation.
Lencioni and Montgomery researched various charities before deciding to host their first ride in July 2006 for the foundation.
"They put a lot of money back into helping the kids," Montgomery said.
The couple also worked to bring the annual Bikers For Babies ride through Eudora.
Sunday, the rumbling convoy will feature a new route that will take bikers on five separate stops from Lawrence to Bonner Springs to De Soto to Edgerton and back to Eudora.
The couple will split half of the money raised from registration fees and selling chances to win prizes with the charity.
"It gives kids a chance to do something they always wanted to do and it takes away their every day problems," Lencioni said.
At each stop the bikers will roll dice to see who has the highest score.
"A dice run is an old-school hot-rod car thing as far as format," Montgomery said. "It's something a little different and a little more of a challenge than a poker run."
The cumulative winners from each stop will split the other half of the money raised.
Each stop will also feature drawings for individual prizes, Montgomery said.
If possible, the duo tries not to duplicate their routes, Montgomery said.
"We try to involve as many bars as we can," Lencioni said.
Last year the run drew about 30 bikes, Lencioni said.
"We're hoping to at least double that this year," she said.
The couple promoted the ride both through fliers posted around Eudora and through the local motorcycling circuit.
The couple attended a Bikers Against Child Abuse ride earlier in the month and promoted their ride, Lencioni said.
Both Montgomery and Lencioni encourage anyone wishing to ride to do so. The duo is also hoping to add more riders from other cities this year, Lencioni said.
The ride will begin Sunday at DC Custom Crafted Cycles, 726-1/2 Main St.
Registration begins at 9:30 a.m. and will run until approximately 10:45 a.m.
Fees are $15 for a single biker and $20 for a couple.
For more information, call Lencioni at 542-1903.